Carl Frampton and Leo Santa Cruz did the featherweight division and boxing world proud as they lit up the New York sky with a barrage of punishment. Santa Cruz tried to use his pressure to break down Frampton in this fight, but Frampton used his good counterpunching to catch Santa Cruz.
This fight swung back and forth like a pendulum as vicious power shots were landed at all types of angles. Frampton and Santa Cruz landed big power shots to the body; so powerful that I thought my television moved.
The Barclays Center was electric as Frampton and Santa Cruz supporters chanted and screamed sweet melodies the entire night. The 1st staggering shot would land for Frampton in the 2nd round as he landed a huge left hook on Santa Cruz that sent Santa Cruz staggering back into the ropes.
Check out these great t-shirts provided by Potshot Boxing's (PSB) Championship Tees By PSB!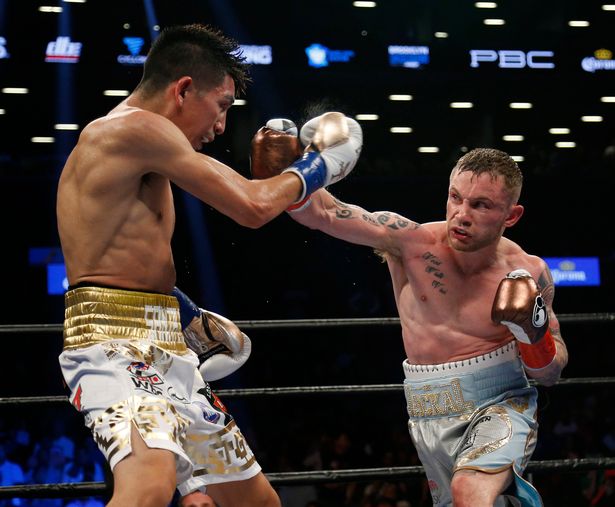 Santa Cruz came back with huge unforgiving power shots to Frampton's ribcage. Santa Cruz did some stalking in the 3rd as he tried to walk down the slick Frampton. Santa Cruz landed some straight right hands on Frampton, but Frampton came right back with a solid counter uppercut that got the Barclays Center crowd jumping out of their seats.
These 2 fighters continued to throw punches in bunches in the 3rd, but Frampton's elusiveness was starting to get the best of Santa Cruz. Santa Cruz stormed back in round 4 with some good body work and banging hooks to take the round, but neither fighter gave the other an inch in this fight. It was a phone booth for most of the fight.
In round 5, Frampton started off with a crisp counter right hand over Santa Cruz's jab. Frampton did a great job in the 5th jumping in and out to get his shots off. Santa Cruz continued his assault on Frampton's body. Frampton caught Santa Cruz with eye-popping counterpunches that made the 5th round an easy fight to score for the judges.
More pressure was applied by both fighters in the 6th round, but Frampton used Santa Cruz's aggression against him. As round 6 continued, Frampton and Santa Cruz stood in the middle of the ring and exchanged heart-stopping punches to the delight of the boxing world.   Santa Cruz close the 6th by landing multiple combinations to Frampton's head and body.
FREE Cell Phone! 500 FREE monthly minutes. Get yours now!
Now, heading into round 7, I had this great fight scored even in my humble opinion. Santa Cruz continued to move forward in round 7 as he ripped Frampton with more body shots. Frampton invited Santa Cruz's pressure in order to land the crisp counterpunches.
Frampton won the 7th round with some good clean boxing. In round 8, these 2 fighters gave the boxing world a lesson on how to land good body punches. Frampton and Santa Cruz stayed on the inside of each other for the first minute of the 8th round banging on each other's body that once again made my television move.
Frampton backed out of the phone booth and started back peppering Santa Cruz with accurate counterpunches as Santa Cruz leaned in. Frampton would punctuate the round with a solid counter left hook. Now you would have thought after all of the non-stop action through 8 rounds, one of these fighters would have wilted by now, but that was not the case.
Round 9 was more of the same non-stop action as Santa Cruz landed a huge straight right on Frampton; and Frampton landed another great left hook on Santa Cruz. These 2 warriors were smothering each other with pressure and punishment.
Round 10 started off with Frampton and Santa Cruz cracking each other with hard lefts and rights to the head. As round 10 continued, Santa Cruz landed a great uppercut on Frampton, but Frampton kept coming. Santa Cruz continued to throw the one, two on Frampton to keep Frampton at bay.
In round 11, Santa Cruz started out by landing more crushing body blows on Frampton's ribcage. Frampton decided to get back on the inside and brawl with Santa Cruz as the 2 fighters just mauled each other.
As round 11 continued, Santa Cruz landed a big right hook on Frampton that momentarily stopped Frampton in his tracks. Frampton would come back with thudding shots to Santa Cruz's ribcage that sounded off the Barclays Center walls. The 2 fighters would finish the last minute of round 11 beating each other up on the inside.
Lose weight, have fun, and be healthy! Get started in 3 easy steps! 
Just an exciting fight! Frampton and Santa Cruz just landed bombs on each other. More bone-crushing shots would land for Frampton and Santa Cruz as that brutal round 11 came to an end. In the final round, both guys came out pressing as if their lives depended on it.
These 2 fighters ripped each other with hard combinations as Frampton motioned to Santa Cruz as if to say "Come on!" Neither one of these fighters wilted down the stretch. Frampton and Santa Cruz would give the Barclays Center a final act to remember as they traded vicious leather for the last minute of this fight.
This 2016 Fight of the Year Candidate bout would go to the judges' scorecards. Judge Guido Cavalleri scored the bout 114-114; while Judge Frank Lombardi scored the bout 116-112, and Judge Tom Schreck scored the bout 117-111 for the winner by majority decision and New WBA Featherweight Champion Carl 'The Jackal' Frampton.
Conclusion
The Leo Santa Cruz vs. Carl Frampton fight was the smaller version of the Keith Thurman vs. Shawn Porter fight. Santa Cruz did in this fight with Frampton exactly what Shawn Porter did in his fight with Keith Thurman; and that was leaned in head first.
As a result of jumping inside, Santa Cruz gave Frampton plenty of chances to counter him with punches that were easy for the judges to see. Now after watching this fight for a 2nd time, I scored the fight 115-113 for Frampton. This fight was closer than some people give it credit for.
I would love to see Frampton and Santa Cruz get it on again. However, it may be a different result the next time out.
Check out this cool "Best Fight I Ever Saw" T-Shirt! Own yours today!
For more boxing news and articles continue to visit www.potshotboxing.com. If you like this post and other's from Potshot Boxing, feel free to subscribe to this boxing website by entering your email address into the floating email form provided on this post! Potshot Boxing – "Boxing news and article bites for all walks of life."