The Premier Boxing Champions Series (PBC) on ESPN rolled on at the Staples Center in Los Angeles, California on Saturday, August 29, 2015, where the boxing crowd was treated to an exciting all-action fight as Abner Mares and Leo Santa Cruz left it all in the ring.  This "fight fire with fire" style fight lived up to the hype as Leo Santa Cruz got off to a shaky start, but rallied in the late rounds to pass the Abner Mares Test.
In round 1, it was Abner Mares who tried to set the tone early as he went straight over to Santa Cruz and starting mauling him.  When Mares used his aggressive tactics on Santa Cruz in the 1st, this gave the boxing world a chance to see how Santa Cruz would respond to such an unforgiving pace that Mares was setting in the ring.
FanDuel! One-Week Fantasy Football Leagues for Real Money! Join Now. Leagues start at $1!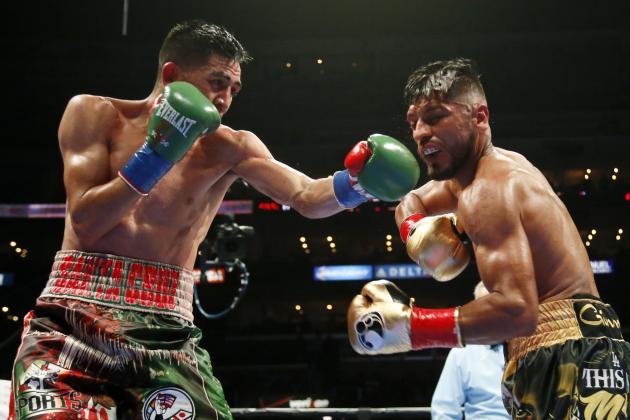 Well, at first it seemed as though Mares was going to ruled the night with his feverish aggressive pace, but Santa Cruz did not back down as he used his great work rate to fire back at Mares to the satisfaction of the packed Staples Center crowd.  The Staples Center crowd continued to be electric as Mares and Santa Cruz traded fast brutal shots all the way to the end of the 1st round.
I still do not know who won that round given the fast pace of it so I guess I would have to call the 1st round an even round.
In round 2, it was more of the same as Mares would hold and maul Santa Cruz every chance he got in this fight. Mares and Santa Cruz and continued to trade crowd pleasing shots in the 2nd which once again made it super difficult to score the round so here we go again with another toss up round in my humble opinion.
This fight turned into a phone booth fight which I thought favored the smaller Mares as it allowed him to get dirty with Santa Cruz on the inside and Mares did just that.  In the 3rd round, Santa Cruz tried to keep the distance by using his jab a little more in the 3rd, but Mares was having none of that.  He simply backed Santa Cruz up and continued to maul him and rough him up as much as possible.  Now, Santa Cruz did get off some nice combinations in the 3rd as well, but Mares was just smothering Santa Cruz with his unbelievable aggression.
In the 3rd, the 2 fighters would clash heads and the referee ruled the head-butts accidental. This, however, did not stop Santa Cruz and Mares from trading show-stopping combinations on each other down the stretch in the 3rd round.  Round 4 would produce more of the same phone booth style fight, but I was saying to myself, "How long can Mares keep his feverish pace up?"
Well, my question was answered swiftly in round 5 as Santa Cruz settled down and started to land some crisp clean shots on Mares that surely got the judges' attention.  Santa Cruz would punctuate the 5th with a counter uppercut on Mares.  The 5th round would prove to be the 1st round in the fight whereas 1 fighter clearly won a round given how the 1st four rounds were swing rounds.  Leo Santa Cruz won that 5th round in my humble opinion.
Like Doritos? Get a Doritos Sample here!
From round 6 on, Leo Santa Cruz would control the fight with his jab and good counterpunching as he caught Mares repeatedly on the inside.  Mares would continue to grab, hold, and maul, but Santa Cruz rose to the occasion and learned on the fly how to deal with unbelievable pressure.  (Well, Mares slowing down the stretch in the fight help a little bit as well.)
In rounds 7 and 8, the Staples Center was still electric from start to finish as they appreciated the fire that Mares continued to try and bring to Santa Cruz, even though Santa Cruz had figured out how to deal with Mares' bullish boxing style.  In round 8, Santa Cruz really started to open up on Mares as he cracked him with hard power shots that were easy for the judges at ringside to see.
In rounds 9 and 10, Santa Cruz continued to walk through Mares' aggression by using his good jab and counterpunching.  Now, to Mares' credit, he continued to come forward and was willing to go out on his shield if he had to.  By round 11, I had Santa Cruz winning rounds, 5, 6, 7, 8, 9, and 10 so heading into the 11th, Mares needed a knockout to win the fight in my humble opinion.
Mares looked gassed in round 11, but he was still coming forward and swinging for the fences in hopes of landing something big on Santa Cruz.  Santa Cruz stayed on queue with inviting the aggressive Mares on the inside as he had packed away enough rounds in the bank to play with Mares for rounds and 11 and 12.
In the final round, Mares showed no sense of urgency in the first part of the round, but turned it on late to try and catch Santa Cruz with something to turn to tide of the fight.  I my humble opinion, it looked as though Mares' boxing fuels wanting to apply pressure on Santa Cruz, but his body was saying to him, "let's just survive this fight and go home."
The 2 fighters would trade power shots until the final bell rung.  This exciting fight would end with the Staple Center crowd giving Mares and Santa Cruz a standing ovation for their valiant effort in the ring!  This fight would go to the scorecards as Judge Max DeLuca score the bout 114-114, and Judges' Steve Morrow and Jesse Reyes scored the bout 117-111 for the winner and new WBA (Super) Featherweight Champion…Leo "El Terremoto" Santa Cruz!
Conclusion
The Premier Boxing Champions Series (PBC) continues to give the boxing world what we want and that is good clean fights! The Leo Santa Cruz vs. Abner Mares fight was a true all-action fight.  Santa Cruz got tested like he never has before and I give him credit for rising to the occasion and dealing with the bully that is Abner Mares.
I also appreciated the terminator boxing style of Mares. Now he kind of ran out of gas late in the fight, but showed championship heart by sticking to his gully boxing game plan.  Mares brought out the best in Santa Cruz which should have the boxing world buzzing about the future of Santa Cruz.
If I had to buzz about Santa Cruz I would say that his future is so bright that he has to wear shades.  Leo Santa Cruz is going to a force in boxing for years to come.
As for Mares, I am not sure where the road will led for him in the future, but given his feverish effort against Santa Cruz, I am positive that he will score more big fights in the future.

Loading ...
Selling your home? We buy pretty, ugly, old and new houses fast! Fill out the short-form and get a quote today!
For more boxing news and articles continue to visit www.potshotboxing.com. If you like this post and other's from Potshot Boxing, feel free to subscribe to this boxing website by entering your email address into the floating email form provided on this post! Potshot Boxing – "Boxing news and article bites for all walks of life."