Leo Santa Cruz's KO over Victor Terrazas was yet another impressive step for Santa Cruz in his climb up the boxing ranks!!
Leo Santa Cruz used his long jab and pressure offense to simply overwhelm Victor Terrazas as he had no answer for the offensive onslaught that Santa Cruz brought to the party on this night.  Santa Cruz did a great job of being first and not allowing Terrazas to mount any attack as he backed Terrazas up the whole fight which led to Terrazas' early doom.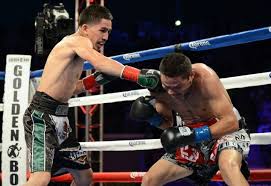 Photo Credit: roundbyroundboxing.com
In the third round, Santa Cruz laid the boom on Terrazas twice as he was able to score 2 huge knockdowns on Terrazas.  Terrazas did not beat the count after the second knockdown and the fight was stopped.
Santa Cruz was awarded the impressive 3rd round KO Victory.   Leo Santa Cruz is now the new WBC junior featherweight champion!!
Conclusion
Leo Santa Cruz was simply sensational in this fight.  He has captured another world title which makes his 2nd weight class that he has won a world title and I can only believe that this will not be the last time he wins a world title in a different weight class.
With the win, the boxing world was put on notice given that Santa Cruz's boxing stock is definitely on the rise and he has everyone's attention in the junior featherweight division. Cannot wait to see who Leo Santa Cruz dominate next!!
For more boxing news and articles continue to visit www.potshotboxing.com. If you like this post and other's from Potshot Boxing, feel free to spread the word to your favorite social media channels with your friends and family!! Potshot Boxing – "Boxing news and article bites for all walks of life."