Check out Potshot Boxing's (PSB) Prediction for the upcoming IBF junior welterweight title fight between Lamont Peterson and Edgar Santana!!
Get the new iPhone 6! Details apply.  Click here.
Washington DC's own Lamont "Havoc" Peterson will be defending his IBF junior welterweight title against Puerto Rico's Edgar Santana. Peterson is stepping back into the ring at the Barclays Center in Brooklyn, NY after his impressive performance in his last fight against Dierry Jean in front of his DC home crowd back in January of this year.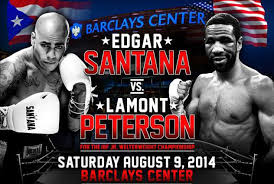 Photo Credit: ringtv.craveonline.com
Edgar Santana has knocked out or stopped his last three opponents leading up to his shot at Peterson. Santana's last victim was Michael Clark which Santana knocked out impressively in one round back in November of 2013.
This should be a good fight as Peterson's fight with Santana will not be a cakewalk. Santana and Peterson are both pretty big and tall for junior welterweights and have good speed. I expect for Peterson, however, to do what he normally does and that is try and outwork his opponent en route to getting a knockout or decision.
Santana is a very patient fighter who works behind his jab and his likes to go to the body so Peterson better be careful when he looks to go inside on Santana.
So who wins?
Get the new iPhone 6! Details apply.  Click here.
Well, this can be a dangerous fight for Peterson because Santana has some good power and again, he is patient so I expect for Santana to try and take advantage of Peterson's aggression by staying behind his jab and throwing those good body shots in hopes of slowing Peterson down. Peterson is great at throwing punches in bunches so can Santana's boxer-puncher style be enough to derail Peterson IBF junior welterweight championship reign?
Santana has a huge chance to win this fight on Saturday given his ability to box and counterpunch well, but I think in the end Peterson's great work rate will win the night over a very good boxer-puncher that is Edgar Santana.
Prediction: Peterson by Unanimous Decision
Get the new iPhone 6! Details apply.  Click here.
For more boxing news and articles continue to visit www.potshotboxing.com. If you like this post and other's from Potshot Boxing, feel free to spread the word to your favorite social media channels with your friends and family!! Potshot Boxing – "Boxing news and article bites for all walks of life."