Check out Potshot Boxing's (PSB) Fight of the month for December 2014!
Sergey "Krusher" Kovalev is the real deal in boxing right now and he plans on being a major player in the boxing landscape for a long time after he defeated the great Bernard "The Alien" Hopkins.
Sergey's domination of the great B-Hop was so impressive that this fight trumped Manny Pacquiao's destruction of Chris Algieri en route to Potshot Boxing picking the Sergey Kovalev vs. Bernard Hopkins fight as Potshot Boxing's (PSB) Fight of the Month for December 2014.
FanDuel! One-Week Fantasy Leagues. No Season Long Commitment. Play today!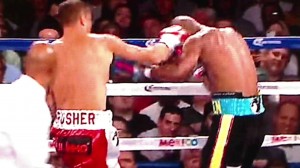 Heading into the light-heavyweight unification fight on November 8, 2014, Sergey Kovalev was told by his trainer John David Jackson, who is very familiar with Bernard Hopkins, to treat Hopkins like an old man.  Well, Kovalev did just that is he step up the pace in this fight and did not let Hopkins set the boxing pace that he is accustomed to.
Kovalev started his onslaught early on in the fight as he stepped up this pace and landed a straight right hand to the dome of Hopkins that sent him to the canvas.  Hopkins got up off of the canvas, but it was clear to Hopkins and the boxing world that Kovalev was not there to fall into any of Hopkins' bag of tricks.
Hopkins was on his bicycle the entire fight due to Kovalev's great effective pressure.  Kovalev continued to back Hopkins up by landing hard shot to the head and body of Hopkins throughout the night at a steady fast pace.  Now, going into this fight, Sergey Kovalev has never been past round 8 in his professional boxing career so maybe Hopkins was betting on Kovalev running out of gas in hopes of taking control of the fight late.
Get a green alien mask here at PSB! Click here!
Well Kovalev never ran out of gas as he ripped Hopkins with hard shots that was hard to watch if you are a B-Hop fan.  Hopkins kept the fight interesting by posturing and showboating, but Kovalev was all business on November 8.  He never let Hopkins set the tone.
Kovalev tried to go for the knockout in round 12 as he landed some crushing shots that almost sent Hopkins to the canvas.  Hopkins took a lot of unnecessary shots in that 12th round, but was able to withstand the pressure and beating that the upstart Kovalev put on him in the 12th.
In the end, this was a good one-sided fight and Kovalev shut out the great Bernard Hopkins en route to a 12th round unanimous decision victory.  Kovalev is now the current IBF, WBA(Super), and WBO light-heavyweight champion of the world.
Conclusion
This was personally a fight that was hard to watch on my end.  I love the great B-Hop, but he got whipped from pillar to post by Kovalev on November 8, 2014!
So what's next for the soon to be great Sergey "Krusher" Kovalev?  Well, if Kovalev had it his way, he would like to unify the light-heavyweight titles, but it seems as though he cannot get Adonis "Superman" Stevenson to the negotiating table.  As a result, the boxing world will have to settle for Kovalev to overwhelm Jean Pascal on March 14, 2015!
The Sergey Kovalev/Jean Pascal fight in 2015 is great for boxing, but I cannot wait until Kovalev finally gets Adonis Stevenson to the negotiating table so we can all see once and for all who is the best light-heavyweight in the world.
Get a $100 Walmart Gift Card! Click Here to find out how!  
For more boxing news and articles continue to visit www.potshotboxing.com. If you like this post and other's from Potshot Boxing, feel free to spread the word to your favorite social media channels with your friends and family!! Potshot Boxing – "Boxing news and article bites for all walks of life."