Sergey Kovalev simply punished Cedric Agnew the entire night en route to retaining his WBO light heavyweight title.  Kovalev started the fight off strong by working Agnew's body and punching threw the high guard of Agnew.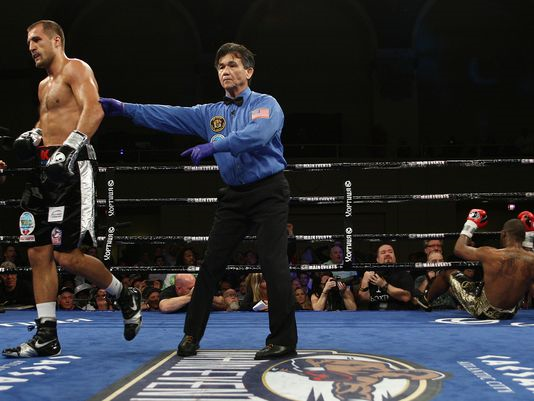 Photo Credit: The Associated Press
Agnew just seemed as though he was afraid to throw punches because of the fireworks that may be fired back at him from Kovalev.  Kovalev knocked down Agnew three times in this fight and ended the fight with a vicious jab to the body as the referee counted Agnew out and Kovalev was awarded the 7th round knockout victory.
Agnew's fight plan was simply to try and get Kovalev into the late rounds, but he just took too much punishment from the dangerous Kovalev  in the process.
Conclusion
In the post fight interview, Max Kellerman asked Kovalev about a possible light heavyweight showdown with Adonis Stevenson and Kovalev basically said; and I quote, "Stevenson is a piece of shit!!"
The boxing world at this point was put on notice by Kovalev that a fight between he and Stevenson will not happen this year!!
Kovalev put on one of the best boxing performances of his career against a very good undefeated fighter in Agnew and he deserves to fight the top light heavyweight in the world which is Adonis Stevenson; and for that fight not to happen this year is simply a straight up travesty!!
The boxing world deserves Kovalev vs. Stevenson this year, but the boxing world will have to wait until next year and beyond for the two best light heavyweights to get it on so in the meantime, whoever "Krusher" Kovalev fights next better get their medical insurance ready.