Check out Potshot Boxing Fact #9 – George Foreman!
"Big" George Foreman is one of the best heavyweight fighters of all time!  The boxing world knows about how George went from being a 2-time World Heavyweight Champion to inventing one of the most sought after grills in the world "The George Foreman Grill."  The boxing world also knows that George Foreman is an ordained minister.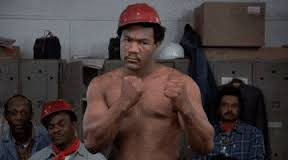 Photo Credit: giphy.com
Did you know, however, that George Foreman made an appearance on one of the best comedy movies of the 1970's?  Foreman played a factory worker on the 1975 comedy movie "Let's Do It Again" starring Sydney Poitier and Bill Cosby.  The scene that Foreman appeared in was one of the funniest scenes in that movie.
Foreman would go on to make appearance in famous 1970 sitcoms and shows such as "Sanford Son" starring Redd Foxx and Desmond Wilson, and "The Six Million Dollar Man" starring Lee Majors.
For more boxing news and articles continue to visit www.potshotboxing.com. If you like this post and other's from Potshot Boxing, feel free to spread the word to your favorite social media channels with your friends and family!! Potshot Boxing – "Boxing news and article bites for all walks of life."