Now Boxing World, before I get into Potshot Boxing's (PSB) Fight of the Month for March of 2016, let's remember, Kell 'Special K' Brook is the real deal and a lot of fighters in the welterweight division just will not fight this guy.
With that said, on March 26, 2016 while one of the best fighters in the sport Andre 'S.O.G.' Ward was making his return to the ring in front of his hometown of Oakland, California; Sheffield, Yorkshire, United Kingdom got to witness their hometown hero IBF Welterweight Champ Kell Brook destroy his mandatory opponent Kevin Bizier inside of 2 rounds.
Get a gift, detail apply!  Click here…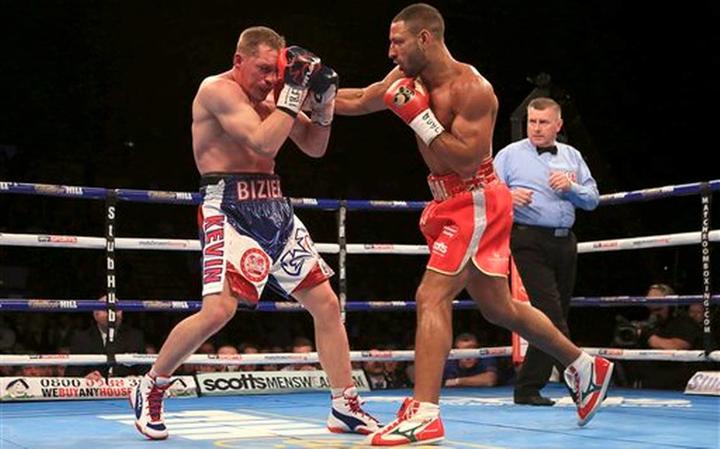 Heading into this fight, Bizier had never been tested by a good fighter like Kell Brook so the question heading in was how would Bizier adapt to the bright lights and the Sheffield Arena crowd who was clearly there to cheer on their hometown hero.
Well it did not take long to figure out who was the superior fighter in this fight as Brook took control of the fight right from the start. In the 1st round, both men started out with the jab while Brook mixed in a looping left hook with his jab.
Bizier move forward behind his high guard and tried to land his jab to Brook's body, but got blasted with a counter right hand by Brook. As the round went on, again, it was clear that Brook showed the boxing world early that he was the superior fighter as he invited Bizier on the inside to inflict target practice on him.
Bizier tried to land some clubbing shots, but could not find Brook. The end of round 1 would showcase Brook's boxing as he landed a straight counter and a hard right hook that went straight through Bizier's high guard. It was an easy round for Brook.
Get Mom something nice for Mother's Day with a $500 Pre-Paid Gift Card!  Find out how here…
Brook continued his brutal assault in round 2 as he landed some good hooks behind Bizier's earmuffs. Brook's dominance became apparent when Bizier's bloody face started to show the effects of Brook's target practice. Brook countered Bizier to death as he landed a brutal counter right hook that shook Bizier's face.
As round 2 continued, Brook caught Bizier with a devastating counter right hand shot that sent Bizier staggering back into the ring ropes. Brook followed up the perfect counter right hand shot with a brutal flurry that sent Bizier down to the canvas for the 1st time of his professional boxing career.
Bizier got up from the knockdown only to get tattooed by another straight right hand, followed by a brutal flurry that sent Bizier straight back to the canvas. Bizier tried to get up from the devastating onslaught by Brook, but he was just too buzzed to answer the count. The referee stopped the fight and Brook was awarded the impressive 2nd round TKO victory, thus retaining his IBF welterweight title.
Conclusion
Kell Brook did what he was supposed to do in that fight with Bizier which was to beat him into submission. I just did not think that it would happen so fast. Brook has power in both hands and he is going to be a problem for all fighters in the welterweight division.
After the fight, Brook call out a lot of fighters from Manny Pacquiao, Danny Garcia, and Timothy Bradley; to Keith Thurman and a rematch with Shawn Porter. In a nutshell, Brook would love to unify the welterweight and move on to bigger and better things.
Ab training secret to get shed belly fat, shrink your waistline, and get toned abs!  Learn how here!

Loading ...
For more boxing news and articles continue to visit www.potshotboxing.com. If you like this post and other's from Potshot Boxing, feel free to subscribe to this boxing website by entering your email address into the floating email form provided on this post! Potshot Boxing – "Boxing news and article bites for all walks of life."