Check out Potshot Boxing's (PSB) prediction for the upcoming WBA (Regular) Welterweight title fight between Keith Thurman and Robert Guerrero.
On March 7, 2015, NBC will premier their Premier Boxing Champions Series and Keith "One Time" Thurman and "The Ghost" Robert Guerrero will headline that momentous event! 
This fight between has the potential to be a 2015 Fight of the Year candidate kind of fight.
Check out the cool boxing t-shirts!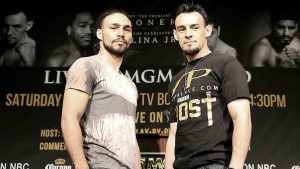 Both of these fighters love to brawl so neither fighter will back down from the other one in this affair.  This is a huge fight for Keith Thurman as he will definitely put the boxing world on notice if he somehow, someway, get the victory over Robert Guerrero.
These fighters both have really good boxing skills, but they always resort to slugging with their opponents, (i.e. Guerrero vs. Kamegai.)  I expect for this fight to start out as a feel out process in the beginning as Thurman and Guerrero will box and try to seek out weaknesses in one another.
After the 3rd round of this fight, however, I expect for the boxing by Thurman and Guerrero to turn into a brutal slugfest which will be great for regular television, (NBC.)  Again, neither fighter will back up in this fight so I expect fireworks from the 3rd round on in this fight.
Keith Thurman will be heading into MGM Grand on March 7, 2015 looking to knock out Robert Guerrero. Guerrero will be shooting for the knockout as well.  There is one problem with the knock out scenario, however, and that is both of these fighters have pretty good beards so I expect for this brutal fight to go the distance and no one gets knocked out.
So who wins?
I will have to say that Guerrero may be a better boxer than Thurman, but I feel that Keith "One Time" Thurman is going to once and for all increase his status as one of the most dangerous fighters in the welterweight division and I expect for him to pour the pressure on late to Guerrero en route to a close unanimous decision victory.
Prediction: Keith Thurman by Unanimous Decision 
 Beats by Dre. headphones and accessories! Beats over-ear headphones give you comfort, clarity, and powerful sound.
For more boxing news and articles continue to visit www.potshotboxing.com. If you like this post and other's from Potshot Boxing, feel free to subscribe to this boxing website by entering your email address into the floating email form provided on this post! Potshot Boxing – "Boxing news and article bites for all walks of life."