In a fight that was too close to call, Keith Thurman and Shawn Porter gave the boxing world an all-out fight of the year candidate kind of fight! This fight was everything the boxing world expected it to be as Porter brought the aggression and Thurman brought the boxing.
Early on in the fight it looked as though Porter's aggression would overwhelm Thurman, but Thurman did a great job of being the matador in the fight. It was great back and forth action in this fight as Porter has success smothering a lot of Thurman's shots which allowed him to rough up Thurman with hard shots to the body.
Get this cool 'One Time' vs. 'Showtime' t-shirt to commemorate this great all-action fight! Click here!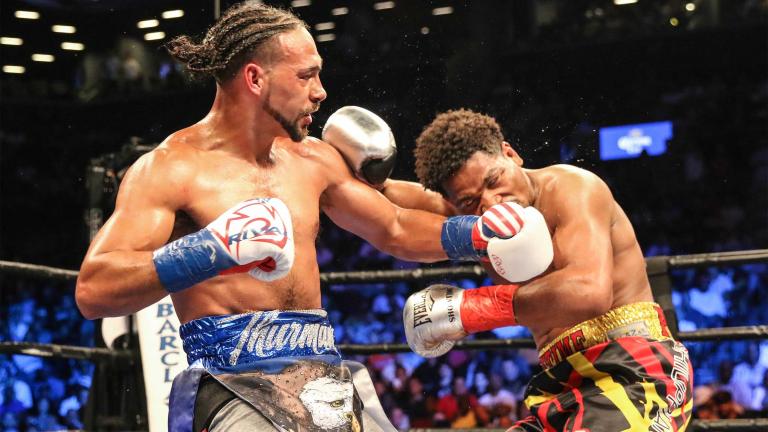 The key to victory for Thurman, however, was how he caught Porter with eye-catching hooks throughout the fight as Porter was coming on the inside. Thurman and Porter did not give each other an inch in this fight.
As the fight moved on, Keith Thurman continued to counter Porter as he came on the inside. Porter would stay relentless, however, as he continued to stalk Thurman at every turn in this fight. Now, these guys are friends outside of the ring, but on June 25, 2016, you may have thought that these guys hated each other because they exchanged brutal power shots with bad intentions.
In the late rounds, Thurman did a great job of controlling the distance, but that did not stop that beast that is Shawn Porter to continue to harass and push through Thurman's attack with unbelievable aggression.
These 2 fighters would trade combination after combination on each other to the appreciation of the Barclays Center boxing crowd! In the end, Thurman's counter hooks on Porter proved to be the difference in this great all-action fight.
This fight went to the judges' scorecards and all 3 judges scored the fight 115-113 for the winner in this nail-bitter…Keith 'One Time' Thurman. With the win, Thurman barely holds on to his WBA welterweight title.
Conclusion
This fight could have easily been declared a draw. Porter did enough to get the decision, but Thurman got the decision. Now, Thurman did enough as well to get the decision, but you can argue that Porter's vicious attack on Thurman's body could have won the night for Porter.
Porter gave Thurman the business in a lot of the early rounds, but he jumped in head first a little too much which allowed him to get whacked with eye-popping counter hooks. This was a great fight! It is definitely a 2016 Fight of the Year candidate, and I hope they do it again in the fall.
If we do not see a rematch in the fall, however, I would love to see either one of them fight Danny Garcia or Kell Brook.
Good Credit, Bad Credit, No Credit. Everyone Can Apply! Click Here!
For more boxing news and articles continue to visit www.potshotboxing.com. If you like this post and other's from Potshot Boxing, feel free to subscribe to this boxing website by entering your email address into the floating email form provided on this post! Potshot Boxing – "Boxing news and article bites for all walks of life."