The fight scheduled for September 7, 2013 between Julio Cesar Chavez, Jr. and Brian Vera has been cancelled.  This fight was scheduled to be live at the Staples Center in Los Angeles, CA and the fight was going to be aired on HBO.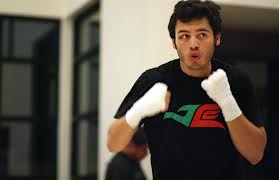 Photo Credit: boxinginsider.com
The fight was cancelled due to a bad cut that Chavez, Jr. suffered over his eye during a sparring session.
Chavez, Jr. was looking to get back into the ring on September 7th and re-establish his place in the middleweight division after he suffered the first loss of his professional boxing career to the middleweight king Sergio Martinez last September.
In his fight with Martinez, Chavez, Jr. was dominated by Martinez the whole night up until the final round when Martinez almost blew it when he was knocked down and almost out by Chavez, Jr., but Martinez got up from the knockdown and like the great champion that he is finished the twelfth round and completed the shutout unanimous decision victory.
The boxing world is eager to see how Chavez, Jr. will perform after the one-sided boxing lesson he took from Martinez, but we will have to wait a little longer for Julio's return.
For more boxing news and articles continue to visit www.potshotboxing.com. If you like this post and other's from Potshot Boxing, feel free to spread the word to your favorite social media channels with your friends and family!! Potshot Boxing – "Boxing news and article bites for all walks of life."