Will Brain Vera's aggressive boxing strategy throw off Julio Cesar Chavez, Jr. once again? Check out PSB's prediction for Chavez, Jr. vs. Vera 2!!
The controversial boxing state of Texas will once again host a fight that can potentially end in controversy as Julio Cesar Chavez, Jr. (47-1-1, 1 no contest, 32 KOs) and Brian Vera, (23-7-0, 14 KOs), are set to bring the Alamodome  down on March 1.
In the last fight between Chavez, Jr. and Vera; Vera effectively moved forward and used his jabs and combinations to throw off Chavez Jr.'s aggressive approach en route to Chavez, Jr. winning a controversial decision over Vera despite the fact that most of the boxing world felt that Vera did more than enough to win the fight.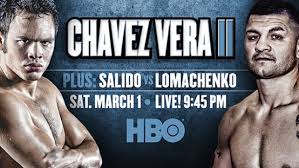 Photo Credit: craveonline.com
I expect for Vera to try and use the same boxing strategy that he used against Chavez Jr.  in their first meeting as again, he had a lot of success against Chavez Jr. using the straight forward aggressive boxing style which wore down Chavez Jr.
Chavez, Jr. said something very intriguing on "HBO's Road to Chavez Jr./Vera II" and that is that in the last fight with Vera, the mistake he made in that fight was fighting to knock out Vera so I expect for Chavez Jr. to be more cautious this time around and try to set up those big power shots instead of trying to knock out Vera with one punch.
So who wins?
Well, this time around Chavez, Jr. looks very focused for the fight on tomorrow night as he did make weight this time and looks to be in great shape.  Vera also looks ready to go so this is going to be a great fight come tomorrow night.  Can Vera put the pressure on Chavez Jr. again like he did in their first fight?  I am sure he can, but Chavez looks too focused and ready this time.
PSB's Prediction: Chavez, Jr. by unanimous decision