Julio Cesar Chavez, Jr. continues to live in his father's shadow as he seems to be the guy who in the eyes of the boxing world looks like he does not care about boxing.  On July 18, 2015, Chavez, Jr. will stepping back into the ring after the whipping his received from Andrzej Fonfara to try and win the boxing world over again by putting on an impressive showing against Marcos Reyes.
Like Doritos? Get a Doritos Sample here!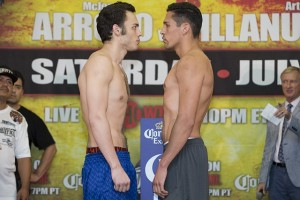 Everything was fine up until the weigh-in of the fight when Julio Cesar Chavez, Jr. failed to make the 170 pound catch-weight fight limit when he stepped on the scales yesterday.  The fight is still scheduled to go on as planned, but it has to sting Chavez, Jr. just a little given how he let the boxing world know that he is more serious about boxing.
Well, I would have to say that missing weight is not going to satisfy a lot of hardcore boxing fans.  Nevertheless, Reyes was compensated a little more money for the fight due to Chavez Jr.'s failure to make weight so all is well for the boxing world, specifically the fans in El Paso, Texas who purchased boxing tickets to see Julio Cesar Chavez, Jr. fight tonight.
Here are the weigh-in results for the upcoming 170 pound catch-weight fight between Julio Cesar Chavez, Jr. vs. Marcos Reyes fight.
Julio Cesar Chavez, Jr. – 170.8 lbs.
Marcos Reyes – 168.4 lbs.
For more boxing news and articles continue to visit www.potshotboxing.com. If you like this post and other's from Potshot Boxing, feel free to subscribe to this boxing website by entering your email address into the floating email form provided on this post! Potshot Boxing – "Boxing news and article bites for all walks of life."