Here is Potshot Boxing's (PSB) Fight of the Month for October 2014!
Jermain "Bad Intentions" Taylor worked his way back into the middleweight mix when he defeated "King" Sam Soliman for the IBF middleweight championship on October 8, 2014.  Taylor's resurrection back on the boxing scene prompted PSB to choose his dominance of Sam Soliman as Potshot Boxing's (PSB) Fight of the Month.
Check out this cool Everlast Exercise Mat.  Get yours now!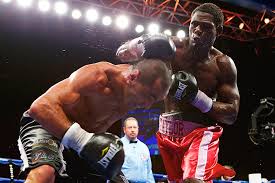 Taylor's used his aggressiveness to overwhelm Sam Soliman from start to finish in this fight.  Soliman simply looked like a fighter that should not have obtained a world title in the first place.  I am not taking away anything from Taylor victory, but Soliman looked lost the whole night against Taylor.
Taylor did not allow Soliman's awkward boxing style to throw off his aggressive offense.  In the second half of this fight, Taylor would take over the fight for good as he continued to wear down the wilting Soliman. Taylor would score knockdowns on Soliman in rounds 7, 8, 9, and 11.
After getting knocked down so many times in the fight by Taylor, Soliman was looking to simply survive the fight knowing that his IBF middleweight title was as good as gone.  Taylor would not be denied his 2nd chance in boxing as he cruised to an easy 12 round unanimous decision victory.
Jermain Taylor's victory would result in Taylor re-capturing the IBF middleweight title.
Conclusion
Jermain Taylor gave the Beau Rivage Resort & Casino in Biloxi, Mississippi crowd one of the best performances of his boxing career.  I know it was against the awkward Soliman, but you have to give Taylor credit for showing the boxing world that he can still dominant a fighter if he puts his aggression to it.
Taylor's resurrection back to the top of the middleweight division will present a plethora of big fight opportunities in 2015!  Middleweights like Gennady "GGG" Golovkin, Peter Quillin, and Miguel Cotto are all possible future opponents for Jermain Taylor.
All of those possible opponents for Taylor would be a tough matchup for Taylor, but I am sure that the boxing world would love to see if Taylor can once again handle the bright lights.
Beats Studio Wireless headphones deliver the sound quality that made Beats by Dr. Dre famous.
For more boxing news and articles continue to visit www.potshotboxing.com. If you like this post and other's from Potshot Boxing, feel free to spread the word to your favorite social media channels with your friends and family!! Potshot Boxing – "Boxing news and article bites for all walks of life."