Here is a recap of what happened in the vacant IBF super middleweight title fight between James DeGale and Andre Dirrell.
Well James DeGale used that wicked left hand to shut up Andre Dirrell en route to capturing the vacant IBF super middleweight title.  This turned out to be a pretty good fight after Dirrell whether the vicious storm that was DeGale in the 2nd round.
Get a gift, details apply! Click here.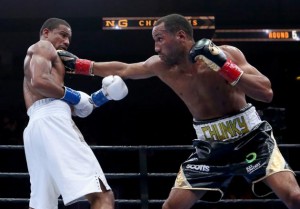 DeGale starting out the fight by using his aggression to get inside on Dirrell and not allow him to control the fight in the middle of the ring. As the 1st round continued, it was more of the same mauling and punches in bunches thrown by DeGale in which I felt won him the 1st round.
Dirrell, however, was controlling the 2nd round with his sharp boxing.  His sharpness led to him landing a solid left hook on DeGale that opened up a cut over the right eye of DeGale.  Dirrell continued to control the 2nd round with good clean boxing as it looked as though Dirrell was going to breeze through this fight. Just as Dirrell started to admire his work, BOOM, one devastating left hand by DeGale sent Dirrell storming to the canvas.
That one looping left hook by DeGale changed the fight around tremendously.  DeGale managed to score 2 knockdowns in the 2nd round and Dirrell's legs showed the boxing world that he may not last long after such a disastrous 2nd.
Dirrell bounced back in round 3, but got caught again by a vicious left hand by DeGale at the end of round 3.  Dirrell got back into the fight in rounds 4 and 5 by landing a good right jab while mixing in counter lefts when DeGale tried to get his left hook off.  Dirrell did a great job in taking back the control of the fight by keeping the distance and watching out for DeGale's dangerous left hand.
In round 6, DeGale got that left hand going again as he caught Dirrell with another looping left hand that opened up a cut on Dirrell's left cheek bone.  Dirrell showed some grit by telling DeGale to come on and fight, but DeGale's aggression would put Dirrell back on his heels again as DeGale started to land shots from everywhere on Dirrell that excited the Agganis Arena boxing crowd.
Get paid for your opinion! Earn up to $75 for each survey taken. Sign up today!
After the 6th round, this fight turned on a dime as Dirrell turned into the aggressive fighter and DeGale was now on the defense as it looked as though DeGale was tiring just a bit in the middle of the fight.
Dirrell found himself back in the middle of the ring in rounds 7, 8, 9 and 10 as he used his combinations and shoe-shining punches to take over the fight.  I give Dirrell a lot of credit for fighting through the firestorm that is James DeGale by standing up and fighting him.
As the fight went on, the 2 fighters kept boxing and talking to one another as neither fighter wanted to give the other one an inch.
When the fight entered into the championship rounds, I felt that the fight was anybody's fight given how Dirrell sucked it up and got the fight back into the center of the ring which is his domain.
In round 11, however, Dirrell allowed DeGale to get off more combinations as it seems as though Dirrell was starting to slow down.  Well, it was either that or Dirrell just simply gave the darn round to DeGale.
In the 1st minute of the final round, both fighters did not really land anything as they both were waiting for the other one to make a mistake so that they can pounce on the other.  As the 12th round went on, DeGale would turn the fight into his favor by moving forward and landing hard body shots and combinations that put Dirrell on the defensive again.
Dirrell would shake his head at DeGale as if to say he did not get hurt, but DeGale was winning the 12th round with effective aggressiveness.  The Agganis Arena boxing crowd would chant "USA…USA…USA" in hopes of pushing Dirrell in the final minute of the fight, but DeGale would not let Dirrell off the hook as he continued his aggressive assault en route to capturing the vacant IBF super middleweight title.
This fight would go to the judges' scorecards as judges Daniel Fitzgerald and Howard John Foster scored the fight 114-112 and judge Alan Davis shockingly score the fight 117-109  all for the winner James "Chunky" DeGale.
Conclusion
I actually score the fight the same as Daniel Fitzgerald and Howard John Foster 114-112.  If Dirrell would not have given DeGale the 11th, this fight should have been a draw in my opinion.  Heck, if Dirrell does not suffer 2 knockdowns in the 2nd round he could have gotten the vacant IBF super middleweight strap by split decision, but that's the beauty of Boxing, STAY OFF THE CANVAS!
The James DeGale vs. Andre Dirrell fight turned out to be a really good fight.  It had a lot of momentum swinging, action, high drama, and entertainment as the 2 fighters were clearly talking trash to one another throughout the fight.
I feel these 2 fighters should fight each other again so let's see what will happen in a rematch if Dirrell can actually stay off of the canvas.  DeGale is a good pressure fighter, but I do not think he nor Andre Dirrell will be ready to step up and face the best at 168 which is Andre "S.O.G." Ward.
Pay off your credit cards today with a loan through Prosper.com!

For more boxing news and articles continue to visit www.potshotboxing.com. If you like this post and other's from Potshot Boxing, feel free to subscribe to this boxing website by entering your email address into the floating email form provided on this post! Potshot Boxing – "Boxing news and article bites for all walks of life."