The Marco Huck vs. Krzysztof Glowacki fight earned Potshot Boxing's (PSB) 2015 Fight of Year given the way that fight swung like a pendulum into one fighter's favor which resulted in a world title dramatically changing hands.
One caveat that the boxing world may not have known heading into the Huck/Glowacki fight was that both guys spent their entire boxing careers fighting in their native countries. Marco Huck fought most of his fights in his homeland of Germany, while Krzysztof Glowacki fought all of his fights in his homeland of Poland.
Dirty Secret Makes You Live to 1,000? 
However, the landscape would change for these 2 fighters on August 14, 2015 as Marco Huck and Krzysztof Glowacki decided to take their talents across the waters to American soil to introduce themselves to the American Boxing World. Marco Huck was looking to make boxing history as he had a chance to break the record for the most consecutive title defenses by a cruiserweight.
What Huck didn't know is that the undefeated Glowacki had plans to upset the applecart.  This fight produced all action from start to finish, high drama, and crowd pleasing excitement as the Prudential Center in Newark, New Jersey was treated to what may be considered "the 2015 Fight of the Year" by a lot of boxing experts.  For this reason, Potshot Boxing (PSB) chose this fight as a surefire shoe in as one of the best fights of 2015.
Glowacki started out aggressive in the 1st round as he backed up Huck with right hands to the body and straight lefts over the top.  Huck started out a little cautious as it seems as though he was trying to time the aggressiveness of Glowacki.
Both fighters were a little sloppy in the 1st round, but the action never stopped.  Huck used his body to lean on Glowacki while trying to scrape him with counter right hands.  Glowacki, however, would win the 1st round with good aggression and a big right hand that got Huck's attention at the end of the 1st round.
Like Doritos? Get a Doritos Sample here!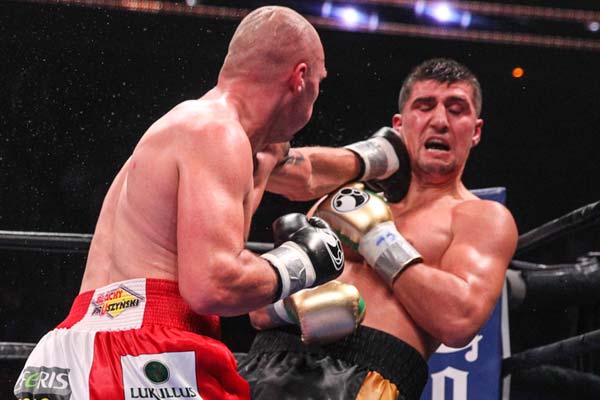 In the 2nd round, Glowacki continued his attack on Huck as he threw more power punches to the body and ripped Huck with some good left hooks.  As round 2 continued, Huck still seemed reluctant to trade, but would rough up Glowacki by shoving and leaning on him when the 2 fighters were on the inside.  Glowacki landed another big left hook on the champion in the 2nd that probably swung that round in Glowacki's favor.
Huck threw his cautious boxing out the window and opened up more in the 3rd round as he landed some good combinations to the head of Glowacki.  Glowacki continued to move forward and landed some big power shots of his own.  The 2 fighters stood toe to toe in the middle of the 3rd round and produced hard fiery action that jolted the Prudential Center crowd.  The action got so intense in the 3rd round that the 2 fighters had to be separated by Referee David Fields after round 3 ended.
After 3 rounds, I lot of boxing experts had the challenger Glowacki winning all 3 rounds given his effective aggression that kept Huck off balance.
In the 4th round, Huck used his counter right hand to catch the aggressive Glowacki as he was coming on the inside.  Glowacki still got off some good lefts to the body on Huck in the 4th, but Huck settled down in the 4th by controlling the action in the middle of the ring with his right jab and wild hook. Huck won the 4th round with good ring generalship which got him on the boxing scorecard and back in this fight.
Huck continued to whack Glowacki with good right hand shots in the 5th round while mixing in some combinations that got the crowd on their feet.  Glowacki continued to move forward, but seemed to have slowed down a bit which allowed the combination assault of Huck to get unleashed on him.
As this round went on, Huck unloaded more heavy combos on Glowacki while at one point pushing him all the way across the ring as Glowacki looked winded.  Huck easily won the 5th round with crisp combinations. By round 6, this fight was anybody's fight in a lot of the boxing world's eyes.
The 6th round would prove to be one the best rounds in boxing this year as not Huck's counter right, but clubbing left hand would catch Glowacki on the top of his head which sent Glowacki to the canvas for the first time in his professional boxing career.  Glowacki barely beat the count of 10 and looked like he was still out on his feet.  As the fight continued, Glowacki would fight fire with fire by landing a wild left hook on Huck that stunned him.
Put Cash in Your Bank Account Fast. Learn how here!
Both fighters stood in the middle of the ring and traded savage shots on each other to the delight of the Prudential Center crowd as they stood on their feet in delight!  How in the world are these 2 guys standing!?"  What a brutal, but beautiful 6th round!
In round 7, both fighters were moving forward, but seemed to be recovering from the brutal round 6.  The fighters would produce good action in the 7th, but the only significant eye-catching punch was thrown by Glowacki as he landed a solid overhand left on Huck that sent him staggering back into the ropes.  The 7th was definitely a swing round for sure, but Glowacki's overhand left may have caught the judges' attention enough to give him the round.
The 8th round produced more suspenseful action as Glowacki backed up Huck and landed devastating combinations on him.  Huck would fight off the ropes on land some unforgiving punishment on Glowacki.
As the round continued, Huck would seized the moment that Glowacki started to rub his eye by landing another solid combination to the head of Glowacki that had him in serious trouble again.  Glowacki would continue to throw hard shots, but Huck scored a big round 8 with good combinations and clean counterpunching.
By round 9, both fighters seemed tired, but continued to throw hard punches with conviction.  In round 10, Glowacki would pour on the aggression again in hopes of mounting one last attack on Huck.  Huck was having none of that in the 10th; however, as he used that vicious right to counter Glowacki at every turn of the 10th round to keep his boxing history making hopes alive.
As the 10th round was winding down, the 2 fighters were brawling so hard that Glowacki's mouthpiece fell out of his mouth.  Referee David Fields called a timeout with 8 seconds left in the 10th, got the mouthpiece back in Glowacki's mouth, and called for the fight to continue.  By the time the fight resumed, however, the bell sounded for the end of round number 10.
Heading into the 11th round, Huck seemed to be winning the night with his good combinations and counterpunching so if he was standing on his feet by the end of the fight, then he was on his way to making boxing history. With that said, according to a lot of boxing experts, Glowacki needed a knockout to win this fight.  So here we go Boxing World, high drama like only the sport we love called Boxing can produce!
Remember, back in the 6th round Huck had floored Glowacki and almost knocked him out in the 6th which is what makes this fight so dramatic.  In the 11th round, both fighters came out boxing as Glowacki was still the aggressor and Huck was trying to use his right jab to counter Glowacki.
Huck continued to land combinations to Glowacki's dome while Glowacki was still on the prowl trying to produce something spectacular.  With under a minute left to go in the 11th round, Huck would land another wild combination to Glowacki's head.
FanDuel! One-Week Fantasy Football Leagues for Real Money! Join Now. Leagues start at $1!
Glowacki would come back with a stunning hard straight right hand that sent Huck crashing to the canvas for the first time in his professional boxing career.
The shot landed by Glowacki seemed to have knocked the life out of Huck.  Huck beat the count of 10, but Glowacki swarmed Huck immediately and land a solid right and left to Huck's body, followed by a vicious left and right hook to Huck's head, mixed in with a fight ending combination that almost sent Huck through the ring ropes.
Referee David Fields stopped the fight and Krzysztof 'Diablo' Glowacki was awarded the shocking 11th round KO victory to capture Huck's WBO cruiserweight title, thus derailing Marco Huck's record breaking cruiserweight title defense party.
Conclusion
Marco Huck and Krzysztof Glowacki both knew heading into the fight that this was their very first time fighting in the United States. What these 2 fighters did not know was that they would share another feat together which was both of them tasted canvas for the very first time in their professional boxing careers. Who knew?
This fight between Huck and Glowacki is why the sport of Boxing is so intriguing like no other sport in the world.  Glowacki was literally out on his feet in the 6th round and showed the boxing why you can never say never in the sport of boxing.
Like the great George Foreman once said during his stint as an HBO Boxing Analyst, "it ain't in the bag, until it's in the bag!"  The Marco Huck vs. Krzysztof Glowacki fight echoes Foreman's comments tremendously as according most boxing expert's scorecards, all Huck needed to do was remain on his feet by any means necessary for the last 2 rounds and he would have captured the cruiserweight title defense record.
Well Glowacki had other plans and he did what he needed to do to stay undefeated and capture a world title.  This is definitely one of those fights that the boxing world would love for Huck and Glowacki to lace the gloves up again and trade punches with each other on American soil for the 2nd time in their professional boxing careers.
You can make a serious case for this fight to not only be chosen as one of Potshot Boxing's (PSB) best fights of 2015, but "the best fight of 2015!"
Here is a system proven to permanently melt away chunks of fat off your body!
For more boxing news and articles continue to visit www.potshotboxing.com. If you like this post and other's from Potshot Boxing, feel free to subscribe to this boxing website by entering your email address into the floating email form provided on this post! Potshot Boxing – "Boxing news and article bites for all walks of life."