In a few hours from now, the boxing world is going to witness the most expensive pay-per-view extravaganzas in sports history when Floyd Mayweather, Jr. and Manny Pacquiao take center stage at the MGM Grand in Las Vegas tonight.  These 2 fighters have produced so much revenue for their battle in the ring tonight that it is not even funny.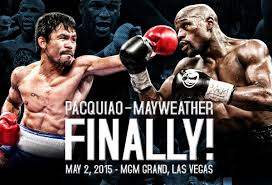 Get 10% off all Mayweather vs. Pacquiao gear when you go to the Showtime Store and order!
The question will be, however, whether or not this humongous fight will be epic or not.  I hope that this fight is not a dud for the boxing world's sake, but if Manny Pacquiao does not press the action enough, we may be in for an easy Mayweather payday.
Boxing World, both of these guys are in great competing shape so let's see how Mayweather and Pacquiao will stack up against each other when the 2 fighters enter the ring tonight.
Tale of the Tape: Floyd Mayweather, Jr. vs. Manny Pacquiao
| | |
| --- | --- |
| Floyd "Money" Mayweather, Jr. | Manny "PacMan" Pacquiao |
| Age: 38 | Age: 36 |
| Boxing Record: 47-0-0, 26 KOs | Boxing Record: 57-5-2, 38 KOs |
| Height: 5 feet 8 inches | Height: 5 feet 6 1/2 inches |
| Weight: *146 lbs. | Weight: *145 lbs. |
| Reach: 72 inches | Reach: 67 inches |
| Stance: Orthodox | Stance: Southpaw |
*This is actual weight these fighters weighed in at on the day before the fight. Fighters weigh in before the fight to ensure that both fighters weigh in at or under the agreed weight  at.
Get 10% off all Mayweather vs. Pacquiao gear when you go to the Showtime Store and order!
For more boxing news and articles continue to visit www.potshotboxing.com. If you like this post and other's from Potshot Boxing, feel free to spread the word to your favorite social media channels with your friends and family!! Potshot Boxing – "Boxing news and article bites for all walks of life."