Check out Potshot Boxing's (PSB) Fight of the Month for January 2015!
HBO Boxing showcased a great one-sided massacre on January 24, 2015 when Brandon Rios and Mike Alvarado decided to step in the ring once more against each other to see which fighter could 1 up the other in this rubber match.
Brandon Rios's focus and willingness to get in great shape, properly prepare for a fight, and destroy his competition, no matter if his competition was ready or not propelled this fight to be Potshot Boxing's (PSB) fight of the month for January 2015.
The Boxing Blue Print! Discover to secret to never ending cardio.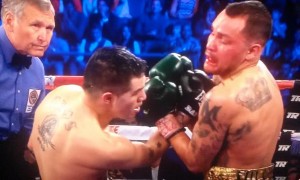 Well, in a fight the boxing world figured would be another competitive fight between Rios and Alvarado, turned out to be an all out destruction of Alvarado by Rios.  Heading into this fight, Alvarado had some outside distractions which may have caused him not to perform at his best on that night.
I give Brandon Rios all the credit in the world for getting in great shape and dominating this fight, but it just goes to show you that if a fighter does not get himself properly ready for a fight like Alvarado, in this hurt business called "Boxing," you can get seriously hurt.  I think Alvarado let his outside distractions get the best of him in this fight.
Mike Alvarado would once again enter his backyard at the 1stBank Center in Bloomfield, Colorado, and like his fight with Ruslan Provodnikov; Alvarado would once again leave the Colorado boxing crowd in disappointment as Rios punished Alvarado for three rounds.
Round 1 just about told you the story of how this fight was going to end up as Rios stalked Alvarado from the beginning and simply beat up Alvarado's body every chance he got. Alvarado was backing up and attempting to box Rios, however Rios used his aggression to overpower Alvarado.
The first big shot in the fight would come from Rios as he landed a big right hand shot that sent Alvarado back against the ropes. Rios would follow up the right hand with barrage of vicious shots that busted up Alvarado's face.
In Round 2, Rios continued to effectively cut off the ring and land more vicious body shots and uppercuts that caused Alvarado to wobble. Alvarado was taking such a beating up to this point in the fight; he hit Rios with a low blow that momentarily stopped the action.
Rios would shake off the low blow and continue on the offensive. In the 3rd round, Rios would start throwing his jab to set up a lot of brutal shots to Alvarado's body. Rios would work in hooks and uppercuts that simply broke down Alvarado. Rios could not miss Alvarado during this fight as he caught Alvarado with a vicious right uppercut that sent Alvarado to the canvas.
Learn how to make money with Google! Free trial.
For more boxing news and articles continue to visit www.potshotboxing.com. If you like this post and other's from Potshot Boxing, feel free to spread the word to your favorite social media channels with your friends and family!! Potshot Boxing – "Boxing news and article bites for all walks of life."