Here is a recap of the IBF middleweight title eliminator fight between Hassan N'Dam and Curtis "Showtime" Stevens!
Transform your blog into an instant click magnet! Find out how!
Well in my prediction post for this fight between Hassan N'Dam and Curtis Stevens, I knew that Stevens' defense was not that great going into the fight, but I thought that Stevens' experience would pull him through en route to an IBF middleweight showdown with the winner of the Sam Soliman/Jermain Taylor fight coming up on November 8, 2014.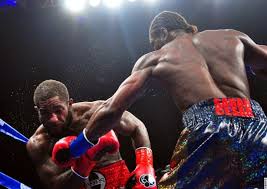 Photo Credit: boxingscene.com
Boy was I wrong, but hey, this is boxing and style make fights!  I simply picked the wrong one this time out.  N'Dam used the entire ring to move away from Stevens' power by using his jab and boxing beautifully.
Stevens' did not use his jab enough in this fight as he spent the night stalking N'Dam with his guard up and trying to score with that signature left hook.  N'Dam's movement just made it difficult for Stevens to get off anything.   In the 8th round, Stevens' stalking got him in trouble when N'Dam caught him with a counterpunch that sent him to the canvas.
Stevens' would get up and continue to stalk N'Dam for the reminder of the fight, but the boxing world could already tell that Stevens was discouraged by N'Dam's movement and sporadic showboating.  Stevens would finally catch N'Dam with that vicious left hook in the 12th round, but N'Dam's chin survived the power shot and he was able to finish the fight on his feet.
Need $500-$1000 now ? Get it as soon as tomorrow!
N'Dam was awarded the 12th round unanimous decision victory over Curtis Stevens.  He now have his sights set on an IBF middleweight championship showdown between the winner of the IBF middleweight fight between Sam Soliman and Jermain Taylor.
Conclusion
Like I said in my prediction post before this fight went down between N'Dam and Stevens, Curtis Stevens have heavy bag tendencies.  This means that Stevens' simply will try to load up and catch his opponent with one shot while getting peppered with jabs and combinations by his opponent in the process.
If Stevens would have just used his jab a little bit in this fight, he probably would have had a huge chance to score a knockout over the suspect chin of N'Dam.
So where does Stevens go from here?  Only boxing time will tell.  Hassan N'Dam is on top of his boxing game right now! If he can box and move like he did against Stevens in this fight, then there is no reason why he cannot become the next IBF middleweight champion, suspect chin and all.
Purchase gifts cards and more at Amazon.com!  Sign up for FREE! 
For more boxing news and articles continue to visit www.potshotboxing.com. If you like this post and other's from Potshot Boxing, feel free to spread the word to your favorite social media channels with your friends and family!! Potshot Boxing – "Boxing news and article bites for all walks of life."