Potshot Boxing takes a look at who is next to fight on the boxing schedule for 2014!!
On July 19, 2014 HBO will travel across the pond to The Cotai Arena, Venetian Resort in Macao, China to showcase one of boxing's best Guillermo "The Jackal" Rigondeaux. Rigondeaux will look to keep his young undefeated professional boxing record intact when he faces off against Sod Kokietgym.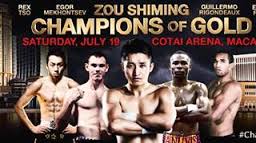 Photo Credit: mbasic.facebook.com
Rigondeaux will be putting his WBA and WBO junior featherweight titles up for grabs in this fight with Kokietgym. Kokietgym is a fighter who has great skills and has only lost to one guy in his professional boxing career and that was Daniel Ponce De Leon. Ponce De Leon is the only fighter that seems to have Kokietgym's number so let's see what type of fight he can bring to the defensive minded Rigondeaux.
The truth about fat burning foods
This should be a good fight given that Rigondeaux will give the boxing world some good old fashion "Sweet Science" yet again.
Another fight that will be taking place at The Cotai Arena, Venetian Resort in Macao, China this Saturday night is China's rising star Zou Shiming. Shiming will be looking for his first taste of championship gold in only his 5th professional boxing match as he will face Luis De La Cruz for the vacant WBO International Flyweight title.
De La Cruz is a helter-skelter type a fighter. Here is a summary of how his last four fights turned out: he gets knocked out, he wins a decision; he gets knocked out again, and then he gets the knock out. So you see the trend right Boxing World? (Win, Lose, Win, Lose) I expect for Shiming to have another great performance on Saturday night.
Conclusion
July 19, 2014 will once again feature the future greats of our sport we love called boxing. In Rigondeaux, we have a boxing throwback, and in Shiming, we have a potential box office mega star. I cannot wait to see these two great fighters in the ring Saturday night.
The truth about fat burning foods
For more boxing news and articles continue to visit www.potshotboxing.com. If you like this post and other's from Potshot Boxing, feel free to spread the word to your favorite social media channels with your friends and family!! Potshot Boxing – "Boxing news and article bites for all walks of life."