Here are the boxing results from the fights that took place on HBO World Championship Boxing on Saturday, May 16, 2015!
The sport of Boxing continues to remind us all of how boxing will never die as last night showed us 2 surefire superstars that will be a common staple in Boxing for years to come.
The 1st fight was super explosive as Roman "El Chocolatito" Gonzalez gave The Forum boxing crowd a sensational boxing performance by making quick work of Edgar Sosa in his 1st appearance on HBO.
Check out this amazing bingo platform that offers a variety of slots games, video poker, Keno and over 300 online bingo patterns!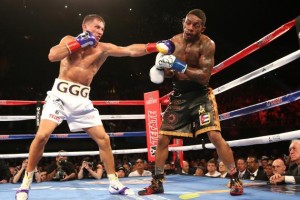 Gonzalez starting stalking Sosa right from the start in this fight by landing unbelievable quick combinations that overwhelmed Sosa.  Gonzalez also showed good defense in this fight by blocking a lot of Sosa's shots with his gloves and countered Sosa with hard straight right hands and left hooks to the body.
In the 2nd round, Gonzalez's accurate speed and power took over as Gonzalez caught Sosa with a devastating right hook that sent Gonzalez to the canvas.  Sosa would get up from the right hook, only to get put down for the 2nd time in the fight by a hard left hook shot.
Sosa would get up from the 2nd knockdown, but he had a look on his face that he did not want anymore of El Chocolatito.  Well, Gonzalez would grant Sosa his wish by keeping up the tremendous crowd-pleasing pressure as he landed a barrage of delightful power punches that brought Sosa to his knees.
The referee would stop the fight and Roman "El Chocolatito" Gonzalez would be awarded the 2nd round TKO victory.  As a result of his sensational victory, "El Chocolatito" retained his WBC and RING flyweight titles and satisfied the American boxing fans.
In the main event, Gennady "GGG" Golovkin did not disappoint The Forum boxing crowd either as he used his great jab and deadly body punching assault to simply devour Willie "The Mongoose" Monroe, Jr.  Just as Gonzalez did in the 1st fight, Golovkin would stalk Monroe right from the start.
Monroe tried to keep Golovkin at bay in the beginning of the fight by flicking out the jab, but Monroe is simply his own enemy because he fights going backwards which allowed Golovkin to trap him against the ropes and land hard body shots.
The big fireworks would start for Golovkin in the 2nd round as Monroe's self-destructing defense allowed Golovkin to pin him in the corner and land a vicious left hook shot that sent Monroe storming to the canvas.  Monroe got up from the left hook shot, but would later get hit with a devastating right hook that sent Monroe back to the canvas in the 2nd round.
Monroe would mount an attack of his own in the 2nd as he caught Golovkin with a solid left uppercut in the final moments of the 2nd round, but Golovkin just walked through the hard punch and continued his assault on the shaky Monroe.
Monroe would survive the cerebral assault of Golovkin in the 2nd round, and in the 3rd Golovkin would try to go in for the kill by landing hard left and right hooks to the head and body of Monroe.
Monroe did land some good counter body shots on GGG, but Golovkin would answer Monroe with the straight right hand to the body and more heavy artillery that just chopped up Monroe.
Want to win an NBA jersey? Enter here for your chance to own one.
The 4th round would be to be the best round for Monroe as he started to land some good body shots and counterpunches on Golovkin.  Monroe started to fight in the middle of the ring which I felt that Monroe should have been doing this from the start.
As the 4th round continued, Monroe would catch Golovkin with some huge left and right hooks and Golovkin waived to Monroe as if to say "come on" which brought the Forum boxing crowd out of their seats! Monroe stormed back with a heroic 4th round which I give Monroe a lot of credit for settling down and fighting Golovkin.
In the 5th round, Golovkin would go back to reality on Monroe as he started off by landing an unforgiving left uppercut followed by a vicious left hook that wobbled Monroe.  Golovkin would continue to waive to Monroe and encourage him to fight him, but Monroe would put himself in harm's way once again as he back up on the ropes and allowed Golovkin to land hard power shots.
Round 6 would be the beginning of the end for Monroe as Golovkin started off the 6th round by landing a left uppercut on Monroe followed by a right uppercut and right hook that sent Monroe stumbling back into the ropes.  While on the ropes, Golovkin would land a fight-ending right hook, followed by a left hook and straight right hand that would end the night for Monroe.
Now, Monroe barely beat the 10 count, but Monroe told the referee that he was done so the referee stopped the fight.  Gennady "GGG" Golovkin was awarded the 6th round TKO victory to retain his WBA (Super), Interim WBC, and IBO middleweight titles.
During the post-fight interview, GGG told Max Kellerman that he wants to unify the middleweight division in the future and then maybe fight either Saul "Canelo" Alvarez, Andre "S.O.G." Ward, or both in the distance future.
Conclusion
Roman "El Chocolatito" Gonzalez and Gennady "GGG" Golovkin are 2 fighters that will captivate the sport of boxing for years to come.  Both of these fighters love to come forward and impose their will on their opponents.
The difference between these 2 pressure fighters opposed to other pressure fighters is their impressive defense.  Gonzalez and GGG showed that not only they can walk through their opponents, but they can do it without taking so much punishment and they can counterpunch just as good as a standard boxer style fighter.
So what's next for these 2 fighters?  Well, Gonzalez plans to score another big fight on American soil while GGG wants to unify the middleweight division.  No matter what happens in the future, Gonzalez and GGG are great for Boxing!
I will say this, however, as great as GGG has become as a fighter, I do not believe he can beat Andre "S.O.G." Ward at any weight if the 2 were to fight each other in the future.  Sorry Boxing World that is just my humble opinion.
For boxing tickets to the latest big fight go here!
For more boxing news and articles continue to visit www.potshotboxing.com. If you like this post and other's from Potshot Boxing, feel free to subscribe to this boxing website by entering your email address into the floating email form provided on this post! Potshot Boxing – "Boxing news and article bites for all walks of life."