This is a recap of the middleweight fight that aired on HBO between Gennady "GGG" Golovkin and Marco Antonio Rubio!
Get Bernard Hopkins vs. Sergey Kovalev boxing tickets here! Prices start at $62.00!
Well Gennady "GGG" Golovkin did not disappoint the StubHub Center boxing crowd as he gave them what they were asking for which was pure domination of Marco Antonio Rubio.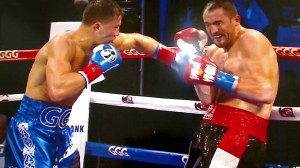 Get Bernard Hopkins vs. Sergey Kovalev boxing tickets here! Prices start at $62.00!
I felt that going into this fight that Rubio may have a chance if the fight went past 6 rounds, but Golovkin crushed that theory by getting Rubio out of there in 2 rounds.
Golovkin's middleweight titles were not at stake because Rubio failed to make weight.  Rubio was fined $100,000 for his troubles.  The extra 1.8 pounds on Rubio did not matter as Golovkin's great combinations and body punching reared its beautiful head in this fight.
Both of these guys starting off the fight looking pretty good as Golovkin was using his jab to feel out Rubio; and Rubio was doing the exact same thing as both fighters were having success backing up one another.  As the 1st round was coming to a close, Golovkin fired off a power right hand shot that got Rubio's attention.  Rubio fired back with some good shots of his own, but Golovkin's would win the 1st round because of his effective aggressiveness.
The 2nd round would proved to be what boxing fans have been use to seeing from Golovkin as he began to get comfortable in the ring, walk his man down, and simply destroy him.  Golovkin would catch Rubio with a good hard right uppercut that sent Rubio into a blazing daze.
Golovkin would follow up the right uppercut with some brutal power punching that would send Rubio to the canvas.  Rubio did not get up, the referee reached the count of 10, and Golovkin was awarded the 2nd round KO victory.  After the fight, Rubio claimed that he did not hear the referee's count, but if you are knocked out past 10 seconds, then chances are you did not hear the count.
Anyway, Golovkin is still the WBA (Super) and IBO middleweight champion.
Get the new iPhone 6! Details apply. Click here!
Conclusion
Golovkin is simply beating up everyone in the middleweight division.  HBO Boxing Analyst Max Kellerman asked Golokvin who did he want to fight next, and Golovkin said that he would like to fight Miguel Cotto next.
Roy Jones, Jr. stated that he would love to see a potential Gennady Golovkin vs. Andre Ward fight down the road.  I disagreed with Jones' stance because I feel that Golovkin does not have the boxing skills to deal with such a great and respected fighter like Andre Ward.  I do, however, would like to see Golovkin go up against the Cotto's, the Canelo's, and the Chavez, Jr's of the world because it would be great for boxing.
It is now official! Gennady "GGG" Golovkin is box office.  He may not be the best fighter in the world, but he is quickly becoming the cash cow of the boxing world!
Get Terence Crawford vs. Ray Beltran boxing tickets here. Prices start at $34.00!
For more boxing news and articles continue to visit www.potshotboxing.com. If you like this post and other's from Potshot Boxing, feel free to spread the word to your favorite social media channels with your friends and family!! Potshot Boxing – "Boxing news and article bites for all walks of life."