This is a recap of the stunning performance by the upstart Gennady Golovkin over Curtis Stevens!!
10 Minute Trainer by Beach Body! Efficient workouts designed to tone body in 10 minutes per day. Get it now!
Wow!!  What a great performance Gennady Golovkin put on for the boxing world tonight!!  Stevens displayed a lot of heart in this fight given the punishment he took and a short-lived rally, but Golovkin was just too much for the now defeated Curtis "Showtime" Stevens.
Golovkin simply dominated this fight from start to finish as he knocked down Stevens in the 2nd round.  Golovkin continued to chop down Stevens with hard  body shots and power punches that clearly rocked Stevens as Stevens seemed to be on shaky legs 2 rounds after he was knocked down in the 2nd round.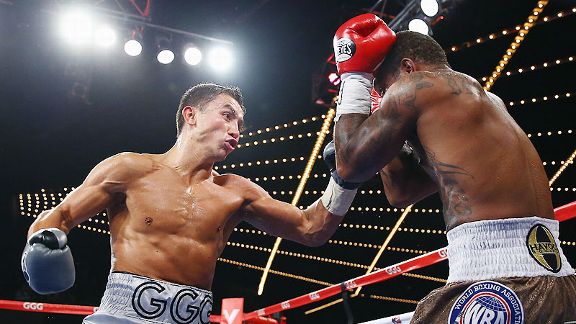 Photo Credit: Al Bello/Getty Images
Stevens showed a lot of heart as he started to use his jab effectively, stayed off the ropes, and landed some big power shots of his own that stunned Golovkin in rounds 5 and 6; and at that point I was feeling like aw….Man, Stevens may get back in this fight after all.  Golovkin, however, took back control of the fight for good as he walked down Stevens and just systemically broke down Stevens with hard shots to the body and head.
Round 8 of this fight was one of the most brutal rounds I have seen in boxing in a long time as Golovkin continued his dominance over Stevens as he stalked Stevens some more and just beat up Stevens and hurt Stevens badly in the last minute of round 8 as blood started to flow from Stevens' nose and his eye started to close shut.
Stevens survived the 8th round, but as he went back to his corner looking like a beaten slab of meat, the referee went over to Stevens' corner and told Stevens' trainer that he was stopping the fight.
Golovkin wins this fight by an 8th round TKO victory to retain his WBA middleweight title, and now set his sights on the bigger fish in the middleweight division.  One name that comes to mind for Golovkin's next fight is Sergio Martinez as Golovkin said he would like to fight Martinez during his post-fight interview with HBO's Max Kellerman.
Conclusion
Golovkin's performance tonight definitely has the boxing world excited about this next great thing that is GGG.  Golovkin was in the ring tonight with a big power puncher in Stevens and he simply destroyed him.  Golovkin has all of the goods to become the number 1 pound for pound king in this sport some day.  He has scary power that can knockout any fighter from 154 to 168 pounds; and not only that; he brakes down fighters in a smart fashion by focusing on the body first and then knowing when to go in for the kill.
GGG is the real deal and I give him a huge chance to beat Sergio Martinez if those two fighters decide to dance with each other in 2014.  No matter who GGG decides to fight in 2014, his opponent better be ready because GGG is simply scary!!
10 Minute Trainer by Beach Body! Efficient workouts designed to tone body in 10 minutes per day. Get it now!
For more boxing news and articles continue to visit www.potshotboxing.com. If you like this post and other's from Potshot Boxing, feel free to spread the word to your favorite social media channels with your friends and family!! Potshot Boxing – "Boxing news and article bites for all walks of life."