After 12 years of running arguably the biggest boxing promotional company to date, on Monday, June 2, 2014, CEO Richard Schaefer resigns from Golden Boy Promotions!!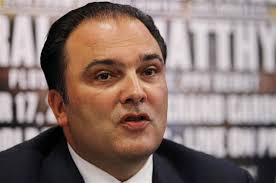 Photo Credit: livelife.com
Schaefer did not give any specifics as to why he resigned from the CEO position at Golden Boy, but Dan Rafael, Senior writer of ESPN Boxing.com, stated that Schaefer's decision to leave Golden Boy Promotions was not surprising at all given that Schaefer and De La Hoya had their share of public issues over the past few months.
Schaefer still remains one of the shareholders at Golden Boy Promotions, so he still wants to see Golden Boy strive and be successful, but as of right now, Schaefer is no longer CEO of Golden Boy.
At the end of the day, it is believed that Richard Schaefer will remain involved in boxing at some capacity in the near future.
Conclusion
Wow!!  This is news.  The boxing world will just have to sit back and wait to see how exactly Schaefer's leaving Golden Boy will effect the promotional realm of Boxing.
For more boxing news and articles continue to visit www.potshotboxing.com. If you like this post and other's from Potshot Boxing, feel free to "Spread the word" to your favorite social media channels with your friends and family!!