"The Ghost" Robert Guerrero and Yoshihiro Kamegai reminded the StubHub Center in Carson, California and the boxing world that boxing is as beautiful as it is brutal tonight. Guerrero and Kamegai engage in which the boxing world would call "a phone booth fight." I give Guerrero a lot of credit for coming off of a year layoff and choosing to engage in such a battle given that he could have just set back and POTSHOT the defenseless Kamegai the whole night!!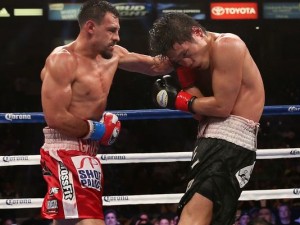 Kamegai is just your typical straightforward type of fighters who just throws a lot of hard power punches and he doesn't mind the blow-back that he receives in return.
Guerrero put himself in some real danger tonight because again, he did not have to brawl with Kamegai, but by the time he realized that he could just stand back and POTSHOT Kamegai, it was too late as both of these guys legs were spent so they had no choice but to stand in front of each other and tee off.
I am just glad I was here to witness yet another great chapter in the sport we all love called "Boxing!!" What a beautiful, yet brutal sport that gives even the dullest of humans a jolt watching two men like Guerrero and Kamegai exchanging death shots to one another!! What a great, great fight!!
Guerrero would be awarded the 12 round unanimous decision victory due to his great body work on Kamegai, and his sensational counterpunching, and trust me, it was not hard for Guerrero to counterpunch because Kamegai does not move his head which makes him a sitting duck for power punching.
Overall, just a great night of boxing!!
Here are the other boxing results from StubHub Center on June 21, 2014:
Vasyl "Hi-Tech" Lomachenko defeated "Mr." Gary Russell, Jr. by majority decision to capture the vacant WBO featherweight title. With the win, Lomachenko wins a world title quicker than any other boxer in boxing history as this was only the 3rd professional boxing match of his career.
Devon Alexander "The Great" defeated "The Reluctant" Jesus Soto Karass by unanimous decision victory. Devon simply used his elusive boxing skills to use the entire ring and put on an unbelievable boxing clinic as Soto Karass simply got shut down and shut out by Alexander's superior boxing game.
"Bad" Chad Dawson defeated George "Honey Boy" Blades by an impressive 1st round knockout to break his 2 fight losing streak.
For more boxing news and articles continue to visit www.potshotboxing.com. If you like this post and other's from Potshot Boxing, feel free to spread the word to your favorite social media channels with your friends and family!! Potshot Boxing – "Boxing news and article bites for all walks of life."