Here is Potshot Boxing's (PSB) prediction for the upcoming GGG vs. Brook WBC, IBF, and IBO middleweight title fight.
Okay, so a lot of the boxing world feels that Kell Brook is not big enough to beat Gennady Golovkin this Saturday. Well, I am not so sure because like I said in my last GGG vs. Brook post, Kell Brook is a big, strong welterweight who has a middleweight physique.
Check out this HOT NEW "Warning: Boxing Decisions" T-Shirt! Own a t-shirt and mug today!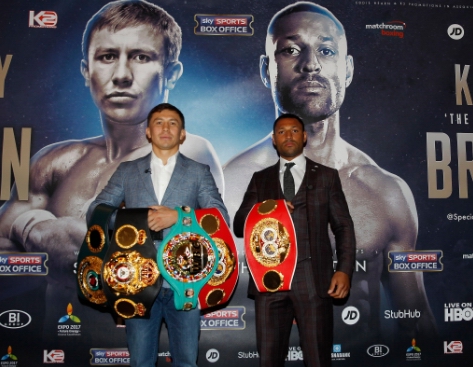 This is going to be a great fight at the O2 Arena for GGG's WBC, IBF, and IBO middleweight titles. Brook has a great jab and can move well, while GGG is just a destroyer that will try to break Brook's will. I expect both fighters to come out and create a chess match in the beginning of the fight.
As the fight picks up, however, I expect for GGG to turn up the heat, which will make Brook have to respond. Can Kell Brook do enough jabbing and getting on his bicycle to shock the world on Saturday night? Or will it be GGG closing the show in heart-stopping fashion?
I feel that Kell Brook has elite boxing skills and will do enough to survive the onslaught that GGG will bring his way, however, it will be GGG taking one step closer to Pound 4 Pound supremacy.
Prediction: Gennady 'GGG' Golovkin by Unanimous Decision
Potshot Boxing brings to you a collection of Boxing T-shirts that features current, past, and future boxing events!
For more boxing news and articles continue to visit www.potshotboxing.com. If you like this post and other's from Potshot Boxing, feel free to subscribe to this boxing website by entering your email address into the floating email form provided on this post! Potshot Boxing – "Boxing news and article bites for all walks of life."