The month of October gave the boxing world yet another exciting month of thrilling action as we witnessed Roman 'Chocolatito' Gonzalez stay pefect, the continuing rise of WBO junior welterweight champion Terence 'Bud' Crawford and Adrien 'The Problem' Broner moving back down to 140 where he belongs.  The boxing world also witnessed the coming out party of newly crowned WBC junior welterweight champ Viktor "The Iceman" Postol as he did the unthinkable by stopping Lucas "The Machine" Matthysse.
I enjoyed all of the fights in the month of October, but Gennady Golovkin's smashing of David Lemieux was super impressive because Golovkin took this fight seriously as he knew that Lemieux was a legitimate threat to upset "The Drama Show."  For that reason, the Gennady Golovkin vs. David Lemieux middleweight unification fight was chosen as Potshot Boxing's (PSB) Fight of the Month for October 2015.
FanDuel! One-Week Fantasy Football Leagues for Real Money! Join Now. Leagues start at $1!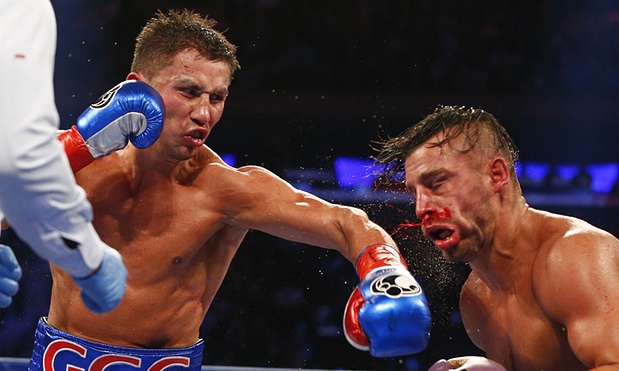 Gennady Golovkin brought "The Drama Show" to Madison Square Garden as he  put on one of the best performances of his professional boxing career.
Golovkin starting out using his jab in the 1st round as he accurately stuck it in the face of Lemieux to keep him at bay.  Lemieux would try and rip Golovkin to the body with some power shots, but Golvokin was too crafty in the 1st as he won it easily with eye-pleasing jabs and overhand rights.
In round 2, Golovkin continued to move behind his jab and mix in the hook with the jab.  Lemieux did get inside momentarily on Golokin in the 2nd, but Golovkin masterfully kept the jab in his face which snapped Lemieux's head back. Golovkin would close the 2nd round in beautiful fashion as he ripped Lemieux with hard right hand shots to the head and body.
Golovkin's assault on Lemieux would continue in round 3 as Lemieux continued to eat hard jabs from Golovkin.  Lemieux did stalk Golovkin in the 3rd, but Golovkin just kept on jabbing and hooking off the jab which left Lemieux more and more befuddled.
Golovkin seriously hurt Lemieux in round 4 with a big left hook that sent Lemieux reeling.  Golovkin would close the 4th round with more masterful jabs and right crosses that got the Madison Square Garden crowd jumping!
Get your very own Apple Watch!  Click Here!
In the 5th round, Lemieux landed a solid right hand shot on Golovkin that momentarily stunned him.  Lemieux tried to follow up the right hand with some more heavy artillery, but Golovkin came back with a left hook of his own on Lemieux and a sneaky left hand to the body that sent Lemieux to the canvas.  Lemieux would get up from the knockdown as round 5 came to an end.
Lemieux landed another hard left hand shot on Golovkin in the 6th round, but Golovkin patiently use his solid left jab to keep the control of this fight.  Lemieux did everything in his power to try and hurt Golovkin as he threw big left hooks and wild looping shots, but Golovkin was too elusive for the frustrated Lemieux.
By round 7, Lemieux was blooding from his nose as Golovkin continued to systemically break him down.  As round 7 continued, Golovkin caught Lemieux with a hard right hand that sent Lemieux into the ropes.  Golovkin would follow up the right hand with accurate jabs and power shots as Lemieux would escape the 7th.
Golovkin would close the show in round 8 as he caught Lemieux with a vicious left and right hook to the body, followed by a hard right hand over the top, and an devastating uppercut that sent Lemieux wobbling back.  Golovkin would land one more signature right hook as the referee stepped in and stopped the fight.
Like Doritos? Get a Doritos Sample here!
Gennady 'GGG' Golovkin was awarded the 8th round TKO victory.  With the win, Golovkin moves his knockout streak to 21, retains his WBC interim, WBA and IBO middleweight titles, and captured Lemieux's IBF middleweight title.
Conclusion
This was the best Gennady 'GGG' Golovkin I have seen so far.  He went into the fight respecting his opponent's power and changed up his boxing game plan by jabbing his way to a systematic beating of Lemieux.
The sky is the limit for 'GGG' now because if this destroyer that is Gennady 'GGG' Golovkin has boxing down now, who can really stop him at middleweight?  I give David Lemieux a lot of credit in this fight because he never gave up.  He kept moving forward in hopes of upsetting "The Drama Show," but on the night of October 17, 2015, Gennady 'GGG' Golovkin was the best fighter in the world.
Lose weight, have fun, and be healthy! Get started in 3 easy steps!
For more boxing news and articles continue to visit www.potshotboxing.com. If you like this post and other's from Potshot Boxing, feel free to subscribe to this boxing website by entering your email address into the floating email form provided on this post! Potshot Boxing – "Boxing news and article bites for all walks of life."