Here is Potshot Boxing's (PSB) Prediction for the upcoming WBA (Super), Interim WBC, and IBO middleweight title fight between Gennady Golovkin and Willie Monroe, Jr.
Saturday, May 16, 2015 at The Forum in Inglewood, California will be the site of yet another victim that will fall to the sheer brutality of Gennady "GGG" Golovkin.  Golovkin's huckleberry this time is Willie "The Mongoose" Monroe, Jr. Just like the great Ervin "Magic" Johnson used to mesmerize The Forum back in the 1980's with his passing wizardry, Golovkin will try to impose his magic act on boxing fans by giving the boxing world another body punching destroying kind of performance.
Need GGG Tickets? If you are in Inglewood, California you can get GGG vs. Monroe boxing tickets and more here!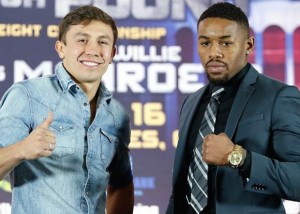 Willie Monroe is a southpaw fighter who only has 1 loss, but I just do not like the way he allows his opponents to get inside and inflict effective punishment on his body.  Monroe is actually a pretty good boxer.  He is savvy and can really move well around the boxing ring.  Monroe always possesses good hand speed which should give him a chance to upset the applecart that is GGG right?
Well like I said in the beginning, though Monroe is slick and has decent defense to deal with aggressive fighters like GGG, he just allows these aggressive fighters to get inside too much and land viciously on his body.  If Monroe can keep the fight in the middle of the ring he may have a shot against GGG, but Monroe falls in love too much with allowing himself to get backed into the ropes by his opponents and getting whacked with hard power punches.
Now, don't get me wrong, Monroe is a 1-loss fighter so his elusive boxing style has served him well so far.  However, if he allows GGG to walk through him and destroy him with the vicious body punching that I expect for GGG to bring to the party on May 16, then Monroe may be in for a short night with the dangerous GGG.
So who wins?
I expect for GGG to move behind his good jab, cut off the ring from the elusive Monroe and whip Monroe's body into submission.  If Monroe is smart on May 16, he should try and use his quick jabs to offset the aggressive Golovkin and control the distance in hopes of making Golovkin pack his fireworks in.
In the end, I just think that GGG will be allowed by Monroe to walk him down, beat his body, and lay another pretty good opponent away by knockout en route to a big fight with one of the top fighters at either 154, 160, or 168 in the summer or early fall.
Prediction: Gennady "GGG" Golovkin by Knockout
To receive emails to the latest boxing news and post from Potshot Boxing (PSB) subscribe here….
For more boxing news and articles continue to visit www.potshotboxing.com. If you like this post and other's from Potshot Boxing, feel free to subscribe to this boxing website by entering your email address into the floating email form provided on this post! Potshot Boxing – "Boxing news and article bites for all walks of life."