Here is Potshot Boxing's (PSB) Prediction for the upcoming Gennady Golovkin vs. Curtis Stevens fight!!
Unlimited Cloud Storage. Simple, safe, and secure.  Try it.  It's FREE!
Which one of these fighters will get knocked out first?
Wow!!  On November 2, 2013, the Mecca of Boxing, Madison Square Garden will be treated to a good old fashion action fight as the undefeated middleweight champion Gennady "GGG" Golovkin, (27-0-0, 24 KO's) will look to continue his rise as one of the best in the sport of boxing when he put his WBA and IBO middleweight titles on the line against New York's own power punching middleweight challenger Curtis "Showtime" Stevens, (25-3-0, 18 KO's.)
This is going to seriously be one of those fights that will boil down to whose gets knocked out first.  The up and coming champion Golovkin has knocked out, stopped, or retired his last 14 opponents, while the challenger Stevens knocked out his last opponent impressively in 1 round.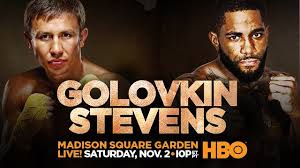 Photo Credit: fightpreviews.net
I expect for both of these fighters to try and impose their power on each other en route to one of these fighters getting knocked out in this fight as this fight will be action-packed throughout.
Stevens has been stopped before, and well, Gennady has never been seriously tested so this makes for a good fight as for the first time, Gennady's chin may get tested in this fight and if it does, we will get a chance to see how the up and coming champion reacts to a power shot.
In the end, Gennady will bring his "A" game, and Stevens is going to bring his "A" game.  Both fighters have devastating knockout power, but I feel that Gennady's knock out rate is too daunting to overlook so I will have to go with Golovkin in hopes that with a win Golovkin and Martinez can finally get it on.
Prediction:  Golovkin by 6 round knockout
Unlimited Cloud Storage. Simple, safe, and secure.  Try it.  It's FREE!
For more boxing news and articles continue to visit www.potshotboxing.com. If you like this post and other's from Potshot Boxing, feel free to spread the word to your favorite social media channels with your friends and family!! Potshot Boxing – "Boxing news and article bites for all walks of life."