Gennady Golovkin has made leaps and bounds in the year of 2015 as he used his passive-aggressive boxing style to walk through some really good opponents en route to Potshot Boxing's (PSB) 2015 Fighter of the Year honors.
Golovkin is currently #3 on the Potshot Boxing (PSB) Pound 4 Pound List and can definitely be considered as the best fighter in the world if he gets a shot at Canelo Alvarez in the fall of 2016 and beat him.
Golovkin's epic 2015 boxing journey started on February 21, 2015 when he faced off against the always tough and rugged Martin Murray.  In that fight, Golovkin simply walked through Murray at every turn in that fight.  Golovkin ended that fight in impressive fashion as he caught Murray with a vicious barrage of punches that left Referee Luis Pabon no choice but to take the fight out of Murray's hand and stop the fight.
Check out PSB's new book, "Best Fights Of 2015 (According to Potshot Boxing – PSB)!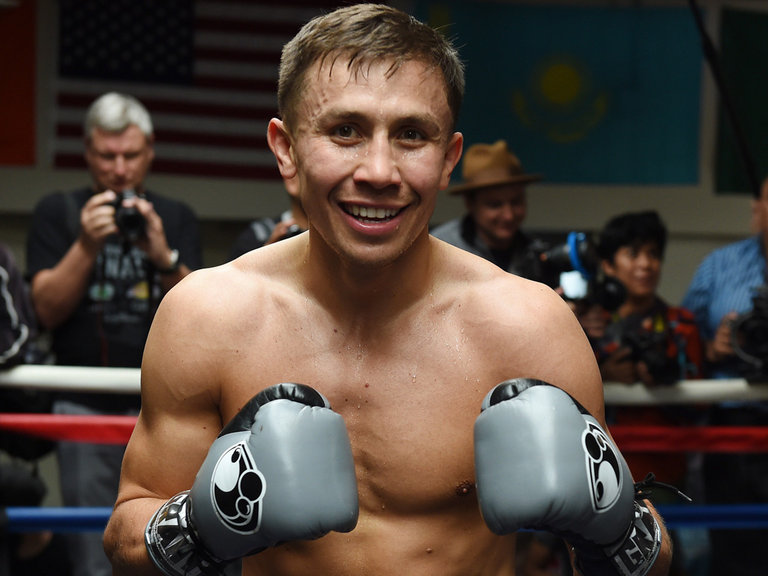 Golovkin was awarded the 11th round TKO victory, and with the win, Golovkin retained his WBA (Super), WBC interim, and IBO middleweight titles, and he captured Murray's WBC Silver middleweight title.
After the fight with Murray, Golovkin's boxing stock was rising fast as he put the middleweight division on notice with the one-sided beating he gave to Murray.
Golovkin's next fight came on May 16, 2015 against a slick boxer named Willie 'The Mongoose' Monroe, Jr.  Now heading into the fight the question that was posed to the boxing world was whether or not Golovkin would be patient and not get caught up in chasing such a slick fighter that is Willie Monroe, Jr.
Well, Willie Monroe, Jr. had a couple of moments in the fight with Golovkin, but Golovkin would turn up "The Drama Show" as he out-willed the savvy Willie Monroe, Jr.  Monroe got knocked down 3 times en route to getting stopped by Golovkin in the 6th round.
Gennedy 'GGG' Golovkin was awarded the 6th round TKO victory, thus, he recorded his 20th straight stoppage.
Lose weight, have fun, and be healthy! Get started in 3 easy steps!
After the Willie Monroe, Jr. fight, Golovkin went on to face by far the biggest test of his professional boxing career.  That test would be the middleweight unification fight against hard punching David Lemieux on October 17, 2015.
This was a fight that a lot of the boxing world gave Lemieux a huge chance to win given his straight-forward aggressive boxing style.  Golovkin would prove to the boxing world, however, that he not only can brawl, but box as well which makes him super dangerous heading into 2016!
Golovkin put on one of the best performances of his professional boxing career as he ripped Lemieux with record setting jabs, and vicious power punches to the head and body as he definitely brought "The Drama Show" to Madison Square Garden on October 17, 2015.
Golovkin's jab gave Lemieux trouble all night as Golovkin masterfully stuck it in his face. Lemieux tried to get inside of Golovkin's jab by throwing shots to Golovkin's body, but Golovkin just looked like the more seasoned fighter as he boxed Lemieux and avoided a lot of Lemieux's power.
Golovkin's patience would close the show in round 8 as he caught Lemieux with a vicious left and right hook to the body, followed by a hard right hand over the top, and an devastating uppercut that sent Lemieux wobbling back.  Golovkin would land one more signature right hook as Referee Steve Willis stepped in and stopped the fight.
Gennady 'GGG' Golovkin was awarded the 8th round TKO victory, moved his knockout streak to 21, retained his WBC interim, WBA and IBO middleweight titles, and captured Lemieux's IBF middleweight title.
Conclusion
Gennady Golovkin walked through all 3 of his opponents in 2015.  In his fights this year, Golovkin improved tremendously as he has shown unbelievable patience by using his jab in the midst of setting up brutal combinations which makes him extremely dangerous for whoever he faces in 2016.  There are a lot of fighters that had a great 2015 run, but Golovkin's sensational knockout streak trumped all fighters this year as Potshot Boxing's 2015 Fighter of the Year honors.
I just hope that the boxing world get the dream fight we all want to see in 2015, and that is Gennady 'GGG' Golovkin vs. Saul 'Canelo' Alvarez!
Put Cash in Your Bank Account Fast. Learn how here!
For more boxing news and articles continue to visit www.potshotboxing.com. If you like this post and other's from Potshot Boxing, feel free to subscribe to this boxing website by entering your email address into the floating email form provided on this post! Potshot Boxing – "Boxing news and article bites for all walks of life."