Mikey Garcia cruised to a unanimous decision over Juan Carlos Burgos to the chagrin of the Madison Square Garden crowd in New York City.
Garcia won the fight easy over Burgos to remain WBO super featherweight champion, but Burgos was a very tough fighter to chop down as Garcia used his great jab and boxing skills to keep Burgos at arm's length the entire night.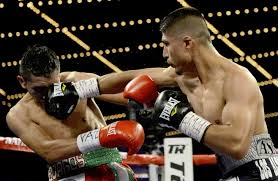 Photo Credit: wboboxing.com
Burgos did catch Garcia with a nice left hook in the 2nd round that stunned Garcia, but other than that, Garcia just overwhelmed Burgos with the jab and every now and then turned over the right hand that landed on Burgos.
Garcia did a great job tonight staying patient and finishing the fight strong with such a tough fighter like Burgos.  Late in the fight Garcia tried to throw the kitchen sink at Burgos to try and get him out of there, but Burgos was too smart to allow the up and coming Garcia to close the show in sensational fashion.
Garcia showed his smartness as well when he realized that he was not going to be able to knock out Burgos by simply sticking to the game plan of using that great jab and keeping the distance between he and Burgos.  Burgos just did not have an answer for Garcia's boxing tonight!!