Here is a recap of Mikey Garcia's impressive performance over Roman Martinez!!
McAfee Total Protection. 50% off. Buy now!
Wow!!  What a fight!!  This fight had fireworks from start to finish.  The first bomb was thrown by the champion Roman Martinez as he knocked Mikey Garcia down in the 2nd round with short right hand shot. Garcia got up off the canvas and all heck broke loose from that point on.
Garcia did not look back in this fight as he used his jab to set up huge power shots that he landed on Martinez time and time again.   Garcia hurt Martinez bad in the 7th round, but Martinez was able to survive the 7th round.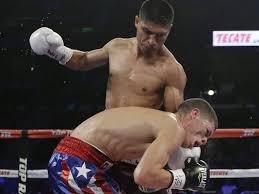 Photo Credit: usatoday.com
In round 8 Garcia continued to pound Martinez to the head and body.  Martinez was gamed and showed heart by fighting with Garcia, but Garcia ended the night in spectacular fashion as he landed a huge power shot to Martinez's body that dropped Martinez for good as Martinez was counted out by the referee.
Mikey Garcia won this fight by a sensational body shot to capture the WBO junior lightweight champion.
Conclusion
Mikey Garcia scored one of the best one-punch knockouts of this year, a body shot!!  He is definitely coming for all of those top fighters in the junior lightweight and lightweight divisions so watch out contenders because this Mikey Garcia guy is for real and he is looking to be a fan favorite in the boxing world for years to come!!
 Title loans up to $25,000. Apply today!
For more boxing news and articles continue to visit www.potshotboxing.com. If you like this post and other's from Potshot Boxing, feel free to spread the word to your favorite social media channels with your friends and family!! Potshot Boxing – "Boxing news and article bites for all walks of life."