Did someone say "money?"  Wow…the pound for pound king Floyd "Money" Mayweather, Jr. is set to score the biggest purse in boxing history as Mayweather will collect $41.5 millions dollars to fight Canelo Alavarez.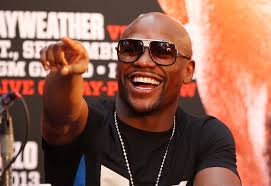 Photo Credit: boxing360.com
The purse that Floyd will be collecting on September 14 will shatter his recent purse record of $32 millions dollars that he collected after his last fight, which I must say it probably was the easiest $32 millions dollars anyone can ever make as Guerrero barely laid a glove on Mayweather during that fight back in May.
This is definitely a tell…tell sign that even $32 millions dollars did not satisfy Floyd and Showtime, so now Floyd has to face a fighter who I feel Floyd should saved for the last fight of his career, but in saying this, however, if Mayweather get past the young and hungry Alvarez, then life is going to be roses for the pound for pound king as I do not see any other real threat at 147; maybe at 154, but not 147.
For more boxing news and articles continue to visit www.potshotboxing.com. If you like this post and other's from Potshot Boxing, feel free to spread the word to your favorite social media channels with your friends and family!! Potshot Boxing – "Boxing news and article bites for all walks of life."