Here we go again!!  45 have tried, and 45 have failed.  Will Marcos "El Chino" Maidana, (35-3-0, 31 KOs) be the one to seize "The Moment" and become the one to defeat the Pound for Pound King Floyd "Money" Mayweather, (45-0-0, 26 KOs)?
This is going to be a good, good fight as I expect for the MGM Grand to boomed with excitement when these two fighters hit the ring on Saturday night.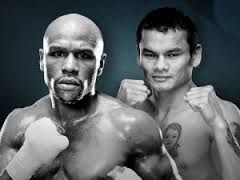 Photo Credit: boxing360.com
As usual, I am going to say what I always say when it comes to a Mayweather fight prediction; his opponent needs to use pressure, pressure, and more pressure.  Maidana needs to fight every second of every round if he wants to dethrone Mayweather and I expect for Maidana to do just that.  Mayweather, however, will invite Maidana to bring the feverish boxing pace to him as Mayweather will look to potshot Maidana at every turn in this fight.
Another thing I always say when it comes to a Mayweather prediction; the key to beating Mayweather is the very thing that Mayweather is the very best at and that is dealing with pressure.
Unlike Adrien Broner, Mayweather will protect his body in this fight with Maidana and use that superior shoulder roll to counterpunch Maidana when Maidana tries to attack to body.
One thing that Maidana do have is his arsenal is a hard overhand right; and the last time Mayweather was seriously hurt in a fight; he got caught by an overhand right by "Sugar" Shane Mosley so Maidana does have a chance in this fight.
In the end, Mayweather will be too smart to engage with Maidana and he will keep the distance in this fight.  I also expect for Mayweather to take over the aggressor role as the fight goes into deep waters and close the show in impressive fashion.  Mayweather should win easy!!
Prediction: Mayweather by Unanimous Decision

Loading ...