Here is Potshot Boxing's (PSB) Prediction for the upcoming Floyd Mayweather, Jr. vs. Marcos Maidana II "Mayhem" PPV fight on September 13, 2014!!
Well to predict this fight between Floyd "Money" Mayweather, Jr. and Marcos "El Chino" Maidana will be easy this time around. In their last meeting in the ring back in May of this year, Maidana came out throwing some absolute bombs at Mayweather in hopes of landing a lottery punch that would put Mayweather on the canvas.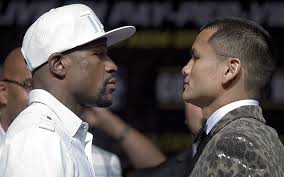 Maidana roughed up Mayweather at every turn in the first fight, but he simply ran out of gas in the later rounds which opened the door for Mayweather to take control of the pace of the fight and closed the show with accurate punching. Mayweather was awarded the majority decision victory over Maidana, but there were a lot of boxing fans and critics who thought that Maidana did enough to shock the world in the first fight.
In the rematch, I expect for Maidana to come out and try to impose as much pressure as possible on Mayweather just like he did in the first fight. I think that Maidana will try to make it a street fight because he does not have the hand speed to box with Mayweather so the only thing he can do is to try to make it uncomfortable in the ring for Mayweather.
I expect for Mayweather to come out a little cautious in the first stages of the fight by using his left jab to keep Maidana's aggression at bay. What I mean when I say left jab? I mean that sneaky straight left jab that he usually lands on the stomach of his opponents that zaps energy as the fight goes into the later rounds.
The last time Mayweather was in a rematch was against Jose Luis Castillo back in 2002 and in that fight Mayweather was successful in controlling the pace with his straight right and good movement to shut out Castillo in that rematch. Mayweather is now 37 years old so the real question is whether or not Mayweather will be able to get out of the way of Maidana aggressive approach.
If Maidana can impose that unbelievable pressure on Mayweather and make it another rough fight for Mayweather the entire 12 rounds of this fight, then I do feel he has a chance to win this fight. However, if the Pound for Pound King Floyd Mayweather can stay off of the ropes and keep the fight in the middle of the ring, then Boxing World, we will be in for another shutout.
One thing that Maidana has going for him is that he has a new strength and conditioning coach for this fight so I believe that Maidana will not run out of gas on Saturday night. Maidana will be going for the knockout, and according to Mayweather he will be going for the knockout as well. So who wins?
Well, I think that Mayweather will once again get the best drawn out of him and do what he does best and that is win.  In the end, I just feel that Mayweather will be too slick and better prepared for Maidana the second time around.  Who knows? Maybe Mayweather will get a knockout in this rematch.
Prediction: Floyd Mayweather, Jr. by knockout
For more boxing news and articles continue to visit www.potshotboxing.com. If you like this post and other's from Potshot Boxing, feel free to spread the word to your favorite social media channels with your friends and family!! Potshot Boxing – "Boxing news and article bites for all walks of life."