The time for Floyd Mayweather, Jr. vs. Manny Pacquiao to get it on is almost here.  May 2, 2015 is this Saturday and it came quick!  So now it is time for Potshot Boxing to make a pick.  Who wins? Will it be Floyd "Money" Mayweather, Jr. or Manny "PacMan" Pacquiao?
Here we go.  I feel that this fight has everything to do with what Manny Pacquiao will do in this fight come May 2.  Floyd Mayweather, Jr. has all of the superior boxing skills to sit in the pocket and pick off Pacquiao's shots.
Check out this new Mayweather vs. Pacquiao Poster!  Own one today.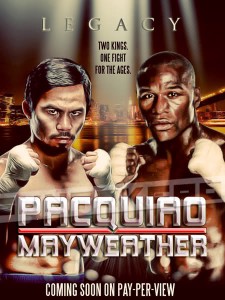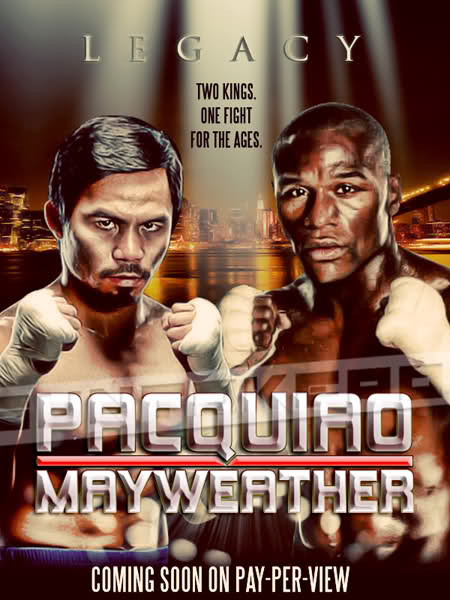 I feel that in order for The PacMan to have any chance against the Pound 4 Pound King Floyd Mayweather, Jr. in this fight, he is going to have to use a solid jab early and often to try and get inside to land some serious leather on Floyd's body.  I am just not sure if Pacquiao will be able to land anything clean to the head of Mayweather.
If Pacquiao can soften up Mayweather's body, however, maybe he will have some chances to land on Mayweather's dome later on in the fight.  I expect for both fighters to start off feeling each other out, but I expect for Pacquiao to win the 1st round because Mayweather usually loses the 1st because he is collecting data on how to attack his opponent later on in the fight.
Mayweather will be Mayweather in this fight.  I expect for Mayweather to collect that data on Pacquiao and use his unbelievable counterpunching to meet Pacquiao at every turn in this fight.  Now, 1 or 2 things will happen in this fight when Mayweather start landing accurate counterpunching; Pacquiao is either going to fight even harder or he may pack it in due to frustration of not being able to catch Mayweather thus; this fight will be a dud.
Here are venues in Las Vegas that still have closed circuit tickets to the Mayweather vs. Pacquiao fight available through Ticket Liquidator.
So let's get to the prediction.  Who wins? Will it be Mayweather or Pacquiao?  Well, Manny Pacquiao will decide whether or not he upsets the boxing world on May 2.  Pacquiao will use his great footwork, he will move side to side and give Mayweather angles to counterpunch at, and he will throw the most punches in this fight. Manny is also a southpaw which can give Mayweather some problems in this fight if Manny can land the straight left hand.
Will Manny Pacquiao throw enough straight left hands, jabs, and combinations to shock the boxing world?  Well, Manny Pacquiao has good movement; he has great speed, heck his defense has even improved.  To beat Floyd Mayweather, Jr., however, you have to try get to his ribcage, and outwork him throughout the fight in hopes of the judges scoring work rate as opposed to accuracy.
This is why at the end of the day I do not want to talk about the trainers, or the camps, etc., because at the end of the day, to beat the Pound 4 Pound King Floyd Mayweather, you simply have to try and overwhelm him with consistent jabs and effective pressure.  So will Mayweather get upset by Manny Pacquiao?
Well it is like I have been saying for years about Floyd Mayweather, Jr., and that is the way to beat Floyd Mayweather is the very thing that is his biggest attribute, and that is dealing with pressure.  This mega-fight between Floyd Mayweather, Jr. and Manny Pacquiao has the potential to be a great fight, but it all depends on whether or not Pacquiao can goat Mayweather into a getting out of his comfort zone by throwing more punches.
We all know Boxing World that Floyd Mayweather, Jr. continues to play chess and not checkers. On May 2, 2015, Pacquiao may have his moments in this epic fight where Mayweather will get caught slippin' playing checkers, but as Mayweather always does, he will right the ship and play chess for the rest of the fight.
Prediction: Floyd "Money" Mayweather, Jr. by Unanimous Decision
Check out Potshot Boxing's (PSB) Store for some cool t-shirts, hats, mugs, and other great merchandise!
For more boxing news and articles continue to visit www.potshotboxing.com. If you like this post and other's from Potshot Boxing, feel free to subscribe to this boxing website by entering your email address into the floating email form provided on this post! Potshot Boxing – "Boxing news and article bites for all walks of life."