On Saturday September 12, 2015, Showtime Pay-Per-View will air Floyd Mayweather Jr.'s 'last fight' which will take place in his home arena this is the MGM Grand in Las Vegas, Nevada.  So this question will be whether or not he can keep the aggressive Andre Berto off of him en route to 49-0.
Get your Official Mayweather vs. Berto Poster! Own a piece of history today.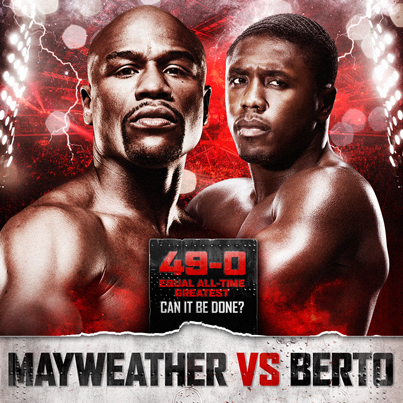 Every fighter that fights Mayweather only have one game plan when facing the Pound for Pound King and that is pressure, pressure, and more pressure.  A Mayweather prediction post is always simple because the only chance a fighter has to beat Mayweather is trying to rough him up and make him fight every second of every round.
I expect for Berto to come out chasing Mayweather from start to finish in this fight.  Berto has the boxing style that can make this fight a very good fight to the surprise of a lot of the boxing world.  Berto will not let Mayweather rest in this fight so Mayweather is going to have to either stay on his bicycle against Berto, or settle down, counter the aggressive Berto, and knock him out.
Andre Berto has a great trainer in his corner in Virgil Hunter who I feel will have Berto ready for Saturday Night.  He will make sure that Berto will use effective pressure the entire night until Berto has nothing left.  In the end, however, it is like I always say about Floyd Mayweather, Jr. and that is "the way to beat Floyd Mayweather, Jr. is his biggest attribute," and that is dealing with pressure.
Mayweather will invite Berto to bring to pressure and potshot him en route to tying Rocky Marciano at 49-0.
Prediction: Floyd "Money" Mayweather, Jr. by Unanimous Decision
FanDuel! One-Week Fantasy Football Leagues for Real Money! Join Now. Leagues start at $1!
For more boxing news and articles continue to visit www.potshotboxing.com. If you like this post and other's from Potshot Boxing, feel free to subscribe to this boxing website by entering your email address into the floating email form provided on this post! Potshot Boxing – "Boxing news and article bites for all walks of life."