Well Floyd Mayweather, Jr.'s final fight last night left a lot of novice; and even hardcore boxing fans wondering why did Andre Berto show up to the MGM Grand in Las Vegas, Nevada on September 12, 2015.  Mayweather danced, showboated, jabbed, and counterpunched his way into the boxing record books, and it seemed as though Berto did not care to stop it.
FanDuel! One-Week Fantasy Football Leagues for Real Money! Join Now. Leagues start at $1!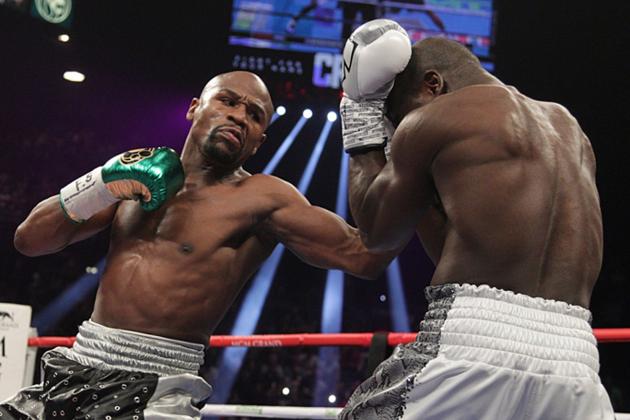 I mean, Berto had the right game plan last night, but he just does not have the proper reach to execute what he was trying to do to Mayweather.  The 1st round of this fight was the usual 'feel out' round as both Mayweather and Berto boxed in hopes of getting each other's timing down.  Well as the round continued, Mayweather started to land that signature lead left to Berto's body while shooting the lead right up top.
Berto did listen to his trainer Virgil Hunter in the 1st round by trying to jab his way in on Mayweather and inflict punishment, but Berto's arms were just not long enough to effect Mayweather, thus, he was actually smothering his own punches.
Berto tried to rave up the aggression in round 2 by stalking Mayweather, but he did not do a great job cutting off the ring on Mayweather which gave Mayweather full reign to escape clinches and land his jab and lead right hands on him.  Round 3 was more of the same action as Berto continued to stalk while trying to mix in multiple jabs. Berto's ineffective aggression left the door open for Mayweather to counter him with judge witnessing shots.
The 4th round was a round that the judges may have scored for Andre Berto as he did land a solid straight left hand did backed Mayweather up.  Mayweather would come back with a good counter right hand shot, however, that caught Berto on the inside.  As round 4 continued, Berto tried to rough up Mayweather, but again, Berto ended up smothering his own aggression throughout the fight.
In round 5, Mayweather did do a little running as a lot of novice boxing fans like to call it as he circled the ring to allow Berto to chase him so that he can try and catch Berto with more counter shots.  Berto did a decent job trying to put the jab in Mayweather's face, but he was just not effective enough.  As round 5 was coming down the stretch, Berto landed a low blow on Mayweather and referee Kenny Bayless quickly warned Berto and got the fight back on track.
Lose weight, have fun, and be healthy! Get started in 3 easy steps!
Berto continued to move forward in round 6 behind his short jab.  Mayweather did some good body work in the 6th as he ripped berto with some good lefts and rights to the body to zap Berto's energy.  Mayweather's masterful body work in round 6 got the MGM Grand roaring.  I had the fight scored 6 to 0 for Mayweather after round 6.
Berto landed some good jabs on Mayweather and the 7th, but he allowed Mayweather use the entire ring to get out of the way of his punches and go back to work on his body.  Mayweather showboated to the delight of the MGM Grand in round 8 as he frustrated Berto with his dancing, laser jabs, and lead lefts to the body.  At this point, Mayweather had complete control of the fight and Berto's psyche.
In round 9, Mayweather took a different approach as he started to come forward, but only to clinch Berto to gain more opportunities to chop at Berto's body.  Mayweather's inside attack would spark some great fireworks in the 9th as the 2 fighters traded some hard power shots in the middle of the ring on each other which exciting the MGM Grand crowd again.
Mayweather showed the boxing world why he is a defensive genius in the 10th by eluding a lot of Berto's attack.  Berto kept stalking Mayweather even through his frustration, but Mayweather was just too sharp for him.  Mayweather would close the show by doing more showboating in rounds 11 and 12.  Round 12 would prove to be the best round of the night in my humble opinion as Mayweather pulled out his whole bag of tricks.
Mayweather would left hook, lead right, and counterpunch Berto as he continued to play to the crowd while doing it.  As round 12 continued, Mayweather stood in the middle of the ring and caught Berto with some hard combinations that stunned him.  Mayweather continued his assault on Berto as it seemed as though Mayweather was trying to get Berto out of there at one point.
Mayweather caught Berto with a big right hand and left to the body as round 12 was twiddling down.  Mayweather amused the crowd as he talked trash down the stretch en route to an easy 12th round unanimous decision victory.  Floyd 'Money' Mayweather, Jr. has now tied Rocky Marciano's undefeated record of 49-0.
Like Doritos? Get a Doritos Sample here!
Conclusion
Andre Berto had the right game plan for this fight.  He jabbed his way in and used aggression, but it was not effective aggression.  This fight was a walk in the park for Mayweather.  I said it once and I will say it again, "the way to beat Floyd Mayweather, Jr. is his best attribute, and that is dealing with pressure."
So what's next for the Pound for Pound King?  Do you really think that Mayweather is going to retire after this fight?  I know he said it in the post-fight interview, but really?  I humbly do not think so.  I feel that he will go for the boxing record of 50-0 because his pride will not let his last boxing image be a victory over Andre Berto.
Now, this was an decent win for Mayweather, but he is not going to go out like that because he knows in the back of his mind that the boxing world is not going to give him the credit that he deserves.  Heck, will the boxing world ever give this man credit?
For boxing tickets to the latest big fights get them here.  Tickets are brought to you by Ticket Liquidator!
For more boxing news and articles continue to visit www.potshotboxing.com. If you like this post and other's from Potshot Boxing, feel free to subscribe to this boxing website by entering your email address into the floating email form provided on this post! Potshot Boxing – "Boxing news and article bites for all walks of life."