On November 7, 2015, there is another fight on the boxing horizon that has the potential to be the 2015 Fight of the Year.  That fight is Timothy Bradley vs. Brandon Rios. The Thomas & Mack Center in Las Vegas, Nevada is going to be treated to a surefire slugfest.
Timothy Bradley is back where he needs to be in the sport of Boxing. He re-captured the WBO welterweight title that he will be defending against Rios on November 7, and he has a brand new trainer in the always entertaining Teddy Atlas.
For boxing tickets to the latest big fights, purchase them here at Potshot Boxing (PSB).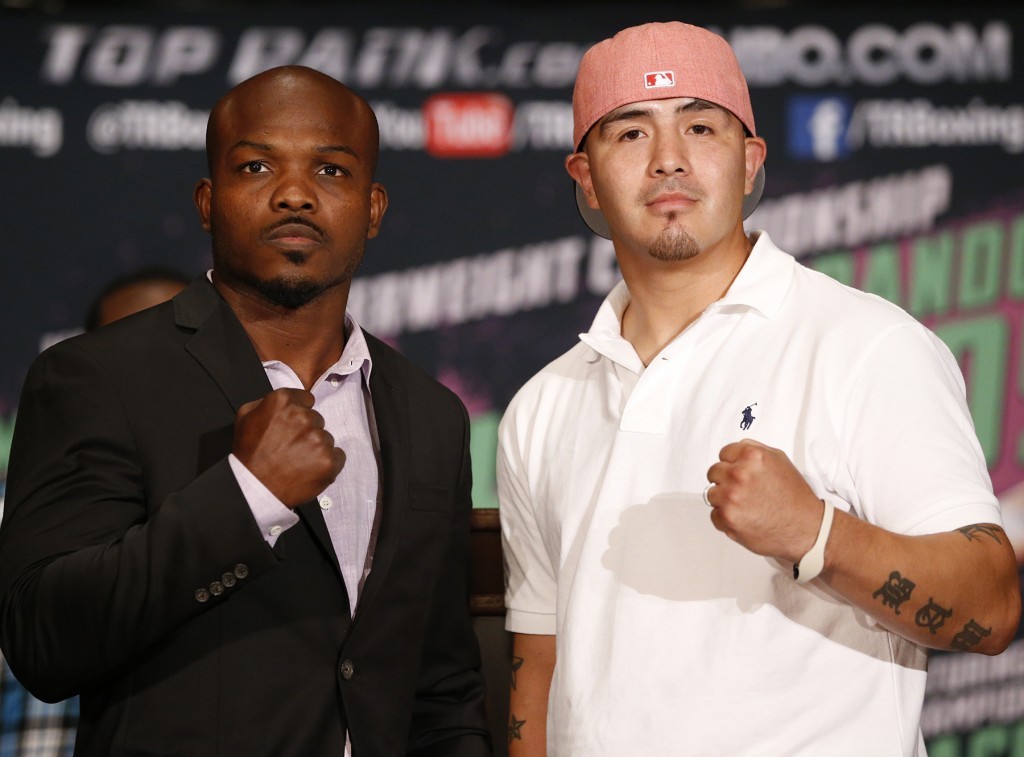 The is all well and good, but Bradley and Rios' boxing careers have been sketchy at best in past 3 years as both have fallen to the Great Manny 'PacMan' Pacquiao.
Before losing to Manny Pacquiao in their rematch fight, Timothy Bradley's boxing career had its ups and downs. Bradley was on top of the world in 2012 when he won by far the biggest fight of his boxing career when he defeated Manny Pacquiao in their first fight.
After the biggest win of his career, Bradley took a lot of criticism from the boxing world because a lot of fans and critics felt the Bradley was given a gift decision over Manny Pacquiao. Bradley would go on from the first fight with Pacquiao to face off against Ruslan Provodnikov in a blood and guts war that left him stuttering and urinating blood after that fight.
Bradley would survive and win the Provodnikov fight, but it was clear that a piece of Bradley's soul was left inside the Home Depot Center boxing ring. After the nightmare that was Ruslan Provodnikov, Bradley would go on to put on one of the best performances of his boxing career when he faced off against the great Juan Manuel Marquez.
FanDuel! One-Week Fantasy Football Leagues for Real Money! Join Now. Leagues start at $1!
After losing the rematch to Pacquiao, Bradley had another sketchy performance against Diego Chaves, but would make up for it in his last fight against Jesse Vargas to capture the vacant WBO welterweight title.
Brandon Rios had his share of ups and downs as well, particularly after losing the rematch to Mike Alvarado.  After the rematch with Mike Alvarado, Rios would go on to lose to Manny Pacquiao in a fight where Pacquiao looked like he literally had a punching bag in front of him.
After the Pacquiao beat down, Rios bounced back well as he won his 2 fights; his fight against Diego Chaves and the impressive 3rd round stoppage of Mike Alvarado in their rubber match en route to this November 7 showdown with Timothy Bradley.
Now Bradley and Rios' paths will collide and this fight has all of the ingredients to become the 2015 Fight of the Year because Rios will be coming forward and Bradley will be willing to fight.  If Bradley sits back and boxes Rios, Bradley can make this an easy fight, but his DNA just does not allow him to sit in the pocket which makes him a special fighter given how he loves to fight.
Rios is going to do everything he can to break the will of Timothy Bradley.  Can he do it?  We will definitely find out on November 7, 2015 Boxing World.
Check out the Potshot Boxing (PSB) Store for t-shirts, mugs, and other great merchandise!
For more boxing news and articles continue to visit www.potshotboxing.com. If you like this post and other's from Potshot Boxing, feel free to subscribe to this boxing website by entering your email address into the floating email form provided on this post! Potshot Boxing – "Boxing news and article bites for all walks of life."