On Saturday, November 21, 2015, HBO Pay-Per-View will air the much anticipated Miguel Cotto vs. Canelo Alvarez showdown.  This WBC and RING middleweight title fight is sure to give the boxing world an all out brutal treat.
In 2015, there has been a lot of great fights the boxing world have witnessed, but this fight between Cotto and Canelo has the potential to be the 2015 fight of the year as I expect every second of this fight to be explosive!
Get a great adult Halloween Costume with a Visa Gift Card! Click Here!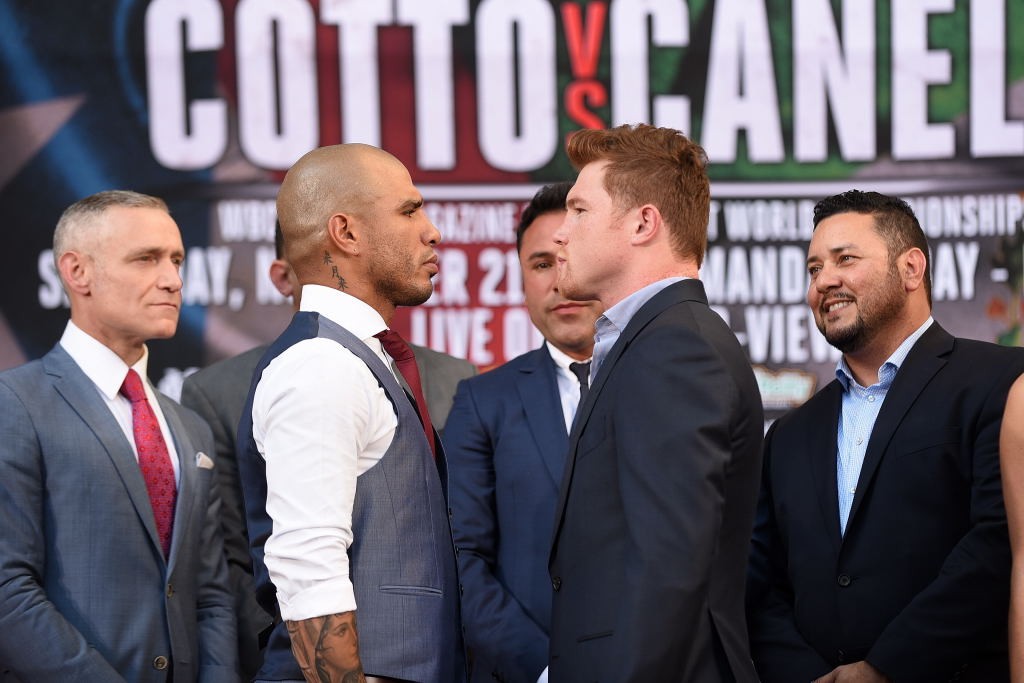 Since suffering the 1st loss of his professional boxing career in 2013 to Former Pound 4 Pound King Floyd 'Money' Mayweather, Jr., Saul 'Canelo' Alvarez, (45-1-1, 32 KOs) has been on fire as he has completely righted the ship en route to this epic showdown with WBC and RING middleweight champ Miguel Cotto.
Canelo used his bully boxing style to walk through Alfredo 'El Perro' Angulo and James 'Mandingo Warrior' Kirkland as he gave the boxing world crowd-pleasing stoppages in both of those fights.  In the Erislandy 'The American Dream' Lara fight, however, there are a lot of critics who felt that Lara should have gotten the nod in that July 12, 2014 meeting.
In his fight with Lara, Canelo had some difficulty finding the target as Lara danced and "ran" as some boxing critics may say around the ring which did frustrate Canelo.  Lara's boxing and running would come back to bite him in the end as 2 judges in that fight thought that Lara ran instead of box which resulted in Canelo getting the controversial split-decision victory in that fight.
In his last fight, Canelo found himself in a "Hagler vs. Hearns" style clash with James Kirkland.  This fight produced 3 of the best rounds in 2015 as Canelo ended the night by landing an unforgiving straight right hand on Kirkland that sent him spinning to the canvas.  The referee immediately stopped the fight.
FanDuel! One-Week Fantasy Football Leagues for Real Money! Join Now. Leagues start at $1!
Now Canelo have his sights set on the WBC and RING middleweight titles that Cotto possesses at the moment.
Miguel 'Junito' Cotto, (40-4-0, 33 KOs) has found the fountain of youth since merging with legendary trainer Freddie Roach.  The resurrection of the body-punching destroyer that is Miguel Cotto started back in 2013 when he faced off against Delvin 'The Jaguar' Rodriguez.  Under the new tutelage of Freddie Roach, Cotto got back to his body-punching destroying ways as he systemically tore Rodriguez apart en route to a devastating 3rd round TKO victory.
Cotto would continue his destruction when he faced off against then WBC and RING middleweight champion Sergio 'Maravilla' Martinez.  Now I will say this Boxing World, heading into that fight, Martinez was not 100 percent which caused him to be a setting duck for Cotto's vicious body punching and power shots.
Cotto would beat Martinez into submission as Martinez quit on his stool en route to Cotto capturing the WBC and RING middleweight titles.  As a result of beating Martinez, Cotto became the 1st Puerto Rican fighter to win world titles in 4 different weight classes.
In his last fight, Cotto put on another body punching exhibition as he just annihilated a doughy looking Daniel 'Real Deal' Geale.  Geale just could not get out of the way of Cotto's devastating power punching which led to his brutal demise.  Cotto destroyed Geale in 4 rounds and is now faced with a huge test on November 21, 2015 against Canelo Alvarez.
I expect this fight between Cotto and Canelo to be epic.  Boxing World, strap your seatbelts on November 21 because Canelo is going to stalk, and Cotto is going to stalk as well.  This fight is going to be explosive!  Don't miss it!
Get your very own Apple Watch!  Click Here!
For more boxing news and articles continue to visit www.potshotboxing.com. If you like this post and other's from Potshot Boxing, feel free to subscribe to this boxing website by entering your email address into the floating email form provided on this post! Potshot Boxing – "Boxing news and article bites for all walks of life."