On January 23, 2016, Danny Garcia will be looking to make another meaningful step in the welterweight division when he faces off against the fading Robert 'The Ghost' Guerrero.  The Staples Center in Los Angeles, California will be treated to a pretty good fight as we all know that despite Guerrero's fading, he is going to give everything he has to try and upset the upstart Garcia.  The winner of this bout will capture the vacant WBC welterweight title.
Check out PSB's new book, "Best Fights Of 2015 (According to Potshot Boxing – PSB)!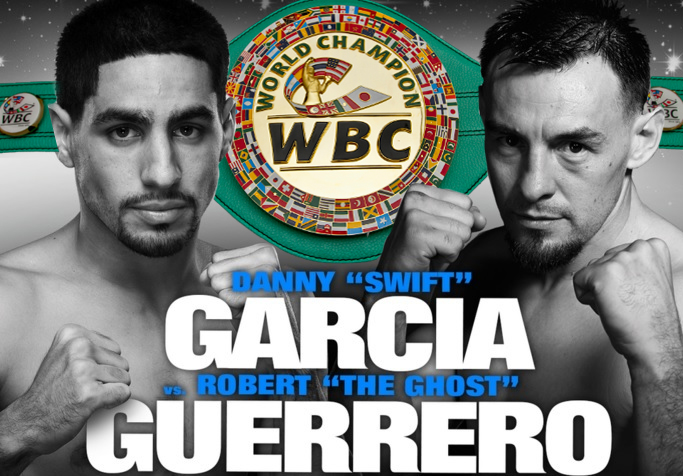 Danny 'Swift' Garcia
Danny Garcia's boxing career has been under some scrutiny lately as boxing fans and experts continue to ridicule Garcia's boxing style and questioned a couple of his fights which some boxing experts felt he lost.  The 2 fights that are in question are the fights against Mauricio Herrera in 2014 and Lamont 'Havoc' Peterson in 2015.
Garcia's biggest win to date is his fight against Lamont Peterson, but again, a lot of the boxing world and experts feel that Peterson should have gotten the nod in their 2015 bout.  In 2014, Garcia scored one of the best knockouts of 2014 when he knocked out an over-matched 'Lightning' Rod Salka.
In his last fight, Garcia moved up to the welterweight division to fight another washed up fighter in Paulie 'MagicMan' Malignaggi.  In that fight, Garcia was just too much for the 'ready to retire' Malignaggi.  He beat Malignaggi into a 9th round stoppage.  Now Garcia will look to repeat what he did in 2015 to Malignaggi to Guerrero on January 23, 2016.
Robert 'The Ghost' Guerrero
Since losing to Floyd 'Money' Mayweather, Jr. back in May of 2013, Guerrero has been mediocre at best as he found himself in a blood and guts war with 'The Heavy Bag' Yoshihiro Kamegai which was chosen as one the best fights of 2014 by a lot of boxing experts and Potshot Boxing (PSB).  The fight with Kamegai was so brutal that I am sure that both men left a piece of themselves in the ring.
Guerrero has not been the same fighter since the Kamegai fight as his next fight was against the up and coming Keith 'One Time' Thurman in March of 2015.  In that fight, Guerrero looked slow as he found himself on the canvas in round 9 of that fight.  Keith Thurman cruised to a 12 round unanimous decision victory over Guerrero.
In his last fight, Guerrero found himself in another tough fight with Aaron Martinez.  Martinez scored a knockdown on Guerrero in the 4th round of that fight, but Guerrero found a way to squeak out a close 12 round split-decision victory.  Now Guerrero has his sights set on upsetting Danny Garcia's 2nd fight at welterweight.
Lose weight, have fun, and be healthy! Get started in 3 easy steps!
Conclusion
The Danny Garcia vs. Robert Guerrero fight should be a good fight.  You have Garcia who has been fighting mediocre competition with the exception of Lamont Peterson, while Guerrero has not been the same since the brutal beating he received from Yoshihiro Kamegai.  Now Guerrero beat Kamegai, but he paid a harsh price for all of the punishment he took from Kamegai.
Garcia should win this fight easy, but you just never know if Guerrero will come out of his punch-drunk shell and give the boxing world an epic fight.  I hope that Guerrero does come out of his shell because if he does, Boxing World, we are going to be in a real special treat!
For more boxing news and articles continue to visit www.potshotboxing.com. If you like this post and other's from Potshot Boxing, feel free to subscribe to this boxing website by entering your email address into the floating email form provided on this post! Potshot Boxing – "Boxing news and article bites for all walks of life."