Here is Potshot Boxing's (PSB) Fight of the Month for August 2016!
In the month of August, the boxing world witnessed Potshot Boxing's (PSB) #1 Pound 4 Pound Fighter, Andre 'S.O.G.' Ward put on a dominating performance against an overmatched Alexander Brand. Ward was so head and shoulders better than Brand, that it produced a very predictable and dare I say boring fight.
The boxing world also witnessed in the month of August a world title change hands in the junior bantamweight division. Luis 'El Nica' Concepcion defeated Kohei Kono to capture the WBA junior bantamweight.
FanDuel Fantasy Football! You could be winning right now. Sign up today!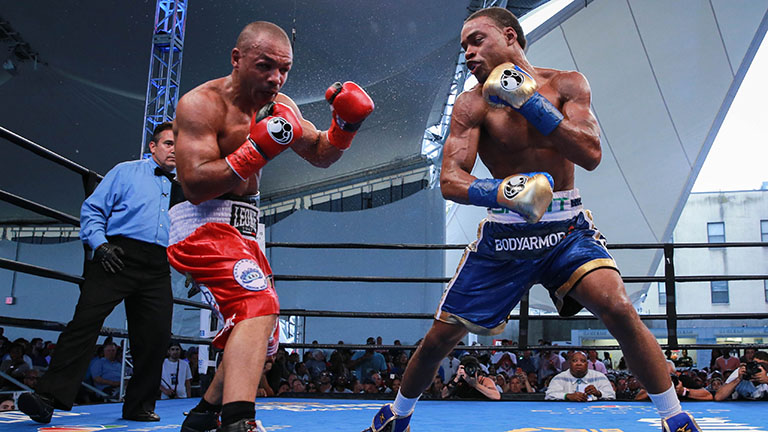 With the exception of the Andre Ward/Alexander Brand fight; the little big men fight between Concepcion and Kono was very compelling. Again, the Concepcion vs. Kono fight was compelling, but it was Errol 'The Truth' Spence, Jr.'s destruction of the fading Leonard Bundu that captured Potshot Boxing's (PSB) eye for Fight of the Month for August 2016.
On August 21, 2016, Errol Spence, Jr. officially put the boxing world on notice with his impressive performance against Leonard Bundu. Heading into the fight, Bundu knew that a loss would be his last chance at a world title so he was going to give it all he had in this IBF welterweight eliminator fight with Spence.
For as long as the fight lasted, Spence wowed the Ford Amphitheater boxing crowd with bone-crushing body punching. Bundu simple had no chance as Spence was poised to slam the door on Bundu's last opportunity to become a world champion.
The accumulation of body punching, jabs, and power punches that Bundu endured from rounds 1 thru 5 would all lead to a dramatic conclusion in round 6. In round 6, Spence turned up the heat to 100 and blasted Bundu with a left uppercut, followed by a right hook that folded Bundu under the ring ropes.
The knockdown was so devastating that the referee had no choice but to stop the fight. Errol Spence, Jr. was awarded the 6th round KO victory. With the win, Errol Spence, Jr. is now the mandatory challenger for 'Special K' Kell Brook's IBF welterweight title.
Conclusion
Errol 'The Truth' Spence, Jr. is quickly becoming one of boxing favorite sons. He is not that far away from becoming an elite fighter, and if he can capture that IBF world title in his next fight, a lot of boxing world will consider him elite.
There are a lot of so-called elite fighters in the welterweight division that may get their clock cleaned if they step into the ring with Spence. After Kell Brook's fight with Gennady 'GGG' Golovkin, Brook may vacate that IBF welterweight title. Time will tell if Brook will indeed follow those steps.
With that said, no matter who Spence is going to fight for that IBF welterweight title, I feel that he will be the favorite heading in.
Get Colin Kaepernick's NFL Football Jersey right here!
For more boxing news and articles continue to visit www.potshotboxing.com. If you like this post and other's from Potshot Boxing, feel free to subscribe to this boxing website by entering your email address into the floating email form provided on this post! Potshot Boxing – "Boxing news and article bites for all walks of life."