Here is Potshot Boxing's (PSB) Prediction for the upcoming junior middleweight showdown between Erislandy Lara and Austin Trout!!
Before the Battle for Brooklyn main event between Paulie "Magic Man" Malignaggi and Zab "Super" Judah take place at the Barclays Center, there will be a big fight 7 pounds north of the welterweight division that Malignaggi and Judah will be fighting at as Erislandy Lara, (18-1-2, 12 KO's) will be putting his WBA interim junior middleweight title on the line against the always tough Austin "No Doubt" Trout, (26-1-0, 14 KO's.)
This is a fight that will give the true meaning to the words "sweet science."  Both of these fighters have a lot in common that they will bring to the table in this fight on December 7, 2013.  First, both of these fighters have 1 loss on their record that can easily be disputed; Lara vs. Paul Williams and Trout vs. Alvarez; both of these fighters are considered undefeated fighters in a lot of the boxing world's eyes.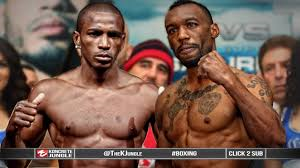 Photo Credit: youtube.com
Second, both of these fighters are great boxers and usually have good energy, so I expect both of these fighters to play that chess game, work behind their jabs, and try to be first at getting off combinations on one another.
Third, these 2 fighters are both Southpaws.
Finally, both of these fighters are smart in the ring as Lara and Trout like to use their excellent boxing skills to outwit their opponent en route to easy unanimous decision victories instead of going for the knockout.
Trout is great at using his footwork and I expect this to be the key in this fight as I expect Trout to use his great boxing IQ to get off his punches first and use that great footwork to circle Lara.
I expect for Lara to use his fast hands to box and try to beat Trout to the punch as well, though I feel that Lara will be in punching range more than Trout will be.
This fight will boil down to a test of the mind.  Which fighter can use his wits and guts to pull out the victory?  For this fight, I just think Trout is hungry to get his title back and hopefully face another great opponent in the future.
Prediction: Trout by unanimous decision
For more boxing news and articles continue to visit www.potshotboxing.com. If you like this post and other's from Potshot Boxing, feel free to spread the word to your favorite social media channels with your friends and family!! Potshot Boxing – "Boxing news and article bites for all walks of life."