Check out Potshot Boxing's New Boxing Dream Poll feature two of the greatest fighters of all time!!
A dream fight between Floyd "Money" Mayweather, Jr. and Pernell "Sweet Pea" Whitaker would be simply amazing. These are two of the best defensive fighters of all time. So wouldn't you want to see what would happen if you had a fight between Mayweather and Sweet Pea if they were both in their prime?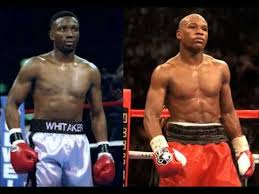 Photo Credit: article.wn.com
This is definitely the kind of dream fight that would be debated until the end of time.
When Pernell Whitaker was fighting back in the day, he made fighters miss so bad when they tried to hit him that it was just a thing a beauty to watch. Pernell mesmerized his opponents with his unbelievable counterpunching followed up by his flashy style and showboating in the ring once he knew he was going to cruise to yet another easy win.
Whitaker once faced off against Floyd Mayweather's Uncle Roger Mayweather and in that fight Roger got a huge dose of Sweet Pea's superior defense and flashy gamesmanship as Whitaker had controlled the pace so well that he pulled down Roger Mayweather's pants during that fight.
Floyd Mayweather, Jr. is the best defensive fighter of this era as he uses that signature shoulder roll to potshot and counterpunch his opponents all night long. Mayweather is so great at his defense, like Sweet Pea, he can literally take a picture after his fights given that his defense is so superior that his opponents usually do not lay a glove on him.
Floyd is also known for clowning a little in the ring. One time he was so in control of a fight that he actually predicted who would go to the NFL Superbowl while still in the midst of eluding punches. Now that's talent!!
A dream matchup against Floyd Mayweather, Jr. and Pernell Whitaker would pit two ultimate defensive fighters against one another so in my opinion, the winner of this fight will probably be the fighter who does not choose to be the aggressor in the fight, but what do I know, huh?
Who do think would will this dream match? Check out PSB's latest poll at the bottom of this post and give your two cents on who you think would have won that fight.

Loading ...
For more boxing news and articles continue to visit www.potshotboxing.com. If you like this post and other's from Potshot Boxing, feel free to spread the word to your favorite social media channels with your friends and family!! Potshot Boxing – "Boxing news and article bites for all walks of life."