Heading into the Legacy Arena in Birmingham, Alabama, Deontay Wilder knew that Johann Duhaupas has never been stopped in a fight, let alone has never even been knocked down in a professional boxing match.  With that said, Wilder knew that stopping Duhaupas would be one of the biggest feats of his boxing career if he could pull off a knockout victory on the un-knockoutable Duhaupas.
Deontay Wilder grew a whole lot in this fight against a very tough Johann Duhaupas as he had to learn on the fly how to deal with relentless pressure.  Duhaupas stalked Wilder from start to finish in this fight as he let the champion know early that he was not coming all the way over to the United States to lie down.
FanDuel! One-Week Fantasy Football Leagues for Real Money! Join Now. Leagues start at $1!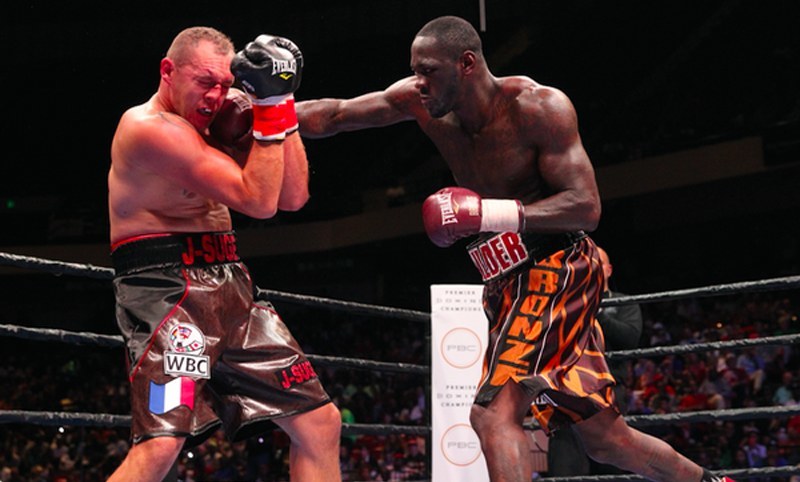 Duhaupas' pressure, however, did not stop the champion from setting his hometown crowd on fire with vicious shot after shot to the head and body of Duhaupas.  Wilder could not miss Duhaupas with the left or right hand as he landed hard combinations on Duhaupas that would have gotten the average heavyweight out of there in the early rounds.  Not Johann Duhaupas, however, as he got hit with everything from Wilder and just kept coming.
Duhaupas was in deep trouble in at least 5 rounds in this fight and he continued to come forward regardless of the leather he was taking.  Duhaupas had some moments in the fight as he backed Wilder up with some good body shots throughout the fight, but he allowed Wilder the control the distance in the fight with his good jab and accurate counterpunching.
As the fight went on, Wilder would also mix in some hard uppercuts to keep Duhaupas at bay, but Duhaupas showed the heart of a champion by continuing to take the spit-fire that Wilder dished out to him and kept coming.
Wilder simply beat up Duhaupas so bad in this fight that I actually did not know how Duhaupas was still standing after the brutal beating his was taking round after round.  At the end of round 5, Wilder's left eye was closing which I felt would leave the door open for Duhaupas to impose his will on Wilder.
Well, someone should have told Wilder that because Wilder did a great job boxing as he kept the right distance which negated the pressure that Duhaupas was bringing. Wilder's good distance would leave Duhaupas wide open for eye-popping power shots.  Wilder dominated from start to finish with brutal combinations and wicked uppercuts that left the boxing world wondering what in the world is keeping Duhaupas on his feet.
Autumn Calabrese's 21-Day Fix! Lose up to 15 pounds in 21 days with easy to follow 21-day portion control system.
Duhaupas got hit with everything but the kitchen sink and looked at Wilder as if to say "that's all you got?"  Duhaupas tried to get inside and land some hard body shots on Wilder late in the fight, but Wilder continued to be crafty with his good distance which lead to him countering Duhaupas with some unforgiving shots.
In round 10, Wilder would catch Duhaupas with more vicious combinations to the head that would lead to Duhaupas hanging on for dear life as Wilder continued to whale on him.  As the fight was heading into round 11, I was not sure if the fight was going to continue given the unbelievable punishment that Wilder dished out on Duhaupas in the 10th, but the fight continued on anyway.
In round 11, Wilder would close the show by landing a devastating left hand that sent Duhaupas reeling.  Wilder would follow up the left hand with a barrage of power shots that left the referee no choice but to stop the fight.  Deontay 'The Bronze Bomber' Wilder was awarded the 11th round TKO victory in what turned out to be by far one of the toughest fights of his professional boxing career.
With the win, Deontay Wilder became the first fighter to ever stop the Teflon-tough Johann Duhaupas.
Conclusion
I was impressed with Wilder's poise in this fight because as a young fighter, he could have easily gotten discouraged by the relentless aggression that Johann Duhaupas was inflicting on him.
Duhaupas should hold his head up high after this fight because he will take back to France some new American boxing fans who appreciated his grit and determination in his attempt to shock the world.  He took all that Wilder dished out and never got knocked down even though the fight got stopped.
So what's next for 'The Bronze Bomber'?  I would love to see Deontay Wilder square off against any of the top heavyweights in the division en route to a showdown with 'Dr. Steelhammer' Wladimir Klitschko in a winner take all heavyweight title fight.  Wilder earned his paycheck for sure in his fight with Duhaupas so I cannot wait to see who he is going to fight next.
Check out the Potshot Boxing (PSB) Store for t-shirts, mugs, and other great merchandise!
For more boxing news and articles continue to visit www.potshotboxing.com. If you like this post and other's from Potshot Boxing, feel free to subscribe to this boxing website by entering your email address into the floating email form provided on this post! Potshot Boxing – "Boxing news and article bites for all walks of life."