Here is a recap of the January 17, 2015 WBC heavyweight title fight between Deontay Wilder and Bermane Stiverne.
Well the question that a lot of the boxing world wanted to know heading into this WBC heavyweight title fight between Bermane Stiverne and Deontay Wilder was how Wilder would respond if the fight were to go past 4 rounds.  Also, the boxing world wanted to know whether or not Wilder could really box or not.
I think Wilder answered a lot of boxing critics tonight including myself as to whether or not he can box, take a punch, and go the distance in a fight.
Check out these cool boxing t-shirts from the legendary fighters to the current great fighters. Own yours today!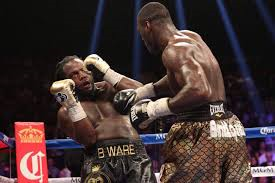 Heading  into the fight, I was a bit surprised that so many people had predicted a knockout victory for Wilder given the patient, but effective boxing skills that the Champion Bermane Stiverne brought to the table.  Maybe a lot of novice boxing fans never seen Bermane Stiverne fight.
The lead up to this WBC heavyweight title fight put on display 2 fighters who did not seem to care for one another as Wilder and Stiverne exchanged trash talk back and forth, however, Wilder did most of the yapping though.  The tension that brewed before this fight had the boxing world clamoring for a great heavyweight fight.
I dubbed this fight "Patience vs. Power," but I did not know that the roles for the 2 fighters would be switched in this fight as Stiverne tried to land more power and Wilder was patient by not over-exerting himself while boxing beautifully.
Deontay Wilder would start off the 1st round by using his sick straight right jab and he kept Stiverne at the end of that jab the entire night.  Stiverne started the fight off trying to land on Wilder's body.  Stiverne did a great job landing on Wilder's body, but he got caught by Wilder's straight left hand down the pike which dismissed the great body work he was doing.
In the 2nd round, Wilder caught Stiverne with a huge shot that was going to send Stiverne straight to the canvas, but Stiverne was smart as he tackled Wilder down to the canvas with him and the referee had no choice but to call the reaction a slip.
Wilder would do more of the same in rounds 3 and 4 as the straight right hand jabs were landing through Stiverne's guard.  Stiverne would continue to mix in some good shots to the body in those rounds, but he simply did not use his own jab enough in this fight.
Check out these great boxing DVDs that will tell the story behind a fighter, fights, and events. Order one of these boxing DVDs today!
The fight would go past 4 rounds which brought us to a moment of truth in the fight regarding Deontay Wilder.  How will Wilder box from the 5th round on.  Well, Boxing World, Wilder boxed patiently and beautifully.  He ran into a little speed bump in the 6th when Stiverne caught him with a big shot.  It seemed as though indeed Wilder was slowing down a bit after the 6th round.
In the 7th round, Wilder switched gears and from the 7th round on he used his great straight right jab to keep Stiverne off of him for good.  Stiverne did not step it up enough to threaten Wilder's chance at gaining his title.  There was simply no urgency from Stiverne in the final championship rounds as he really needed a knockout to hold on to his WBC heavyweight strap.
Wilder continued to land the straight right hand, while mixing in a few uppercuts and hooks for the remainder of the fight.  Stiverne continued to try and work Wilder's body, but to no avail.
The fight would go to the scorecards, which was a first of many first for Deontay Wilder on this night.  The official scorecards read 118-109, 119-108, 120-107 all for the winner and NEW WBC heavyweight champion of the world Deontay "The Bronze Bomber" Wilder.
With the win, Wilder becomes the first American undefeated heavyweight champion since Riddick Bowe in 1992, and the first American to hold the heavyweight title since Shannon Briggs in 2007.
Conclusion
Deontay "The Bronze Bomber" Wilder answered a lot of questions that the boxing world and critics needed answers to.  Can he box? Yes!  Can he take a punch? Yes! Can he go past 4 rounds and finish a fight? Yes!
These were some key questions that needed to be answered and those answers showed the boxing world tonight that if Deontay Wilder can answer those 3 critical questions going forward, then Boxing World, we may have an American heavyweight champion for a long time to come.
Check out these cool boxing t-shirts from the legendary fighters to the current great fighters. Own yours today! 
For more boxing news and articles continue to visit www.potshotboxing.com. If you like this post and other's from Potshot Boxing, feel free to spread the word to your favorite social media channels with your friends and family!! Potshot Boxing – "Boxing news and article bites for all walks of life."