Demetrius "Boo Boo" Andrade kept his unblemished boxing record intact as Andrade simply destroyed Brian Rose in 7 rounds to remain perfect!!
Demetrius Andrade was spectacular last night as he used his combinations and perfect straight left hands to dominant Rose. Rose did not have any answer for Andrade great offense and realized from the start of the fight that Andrade was just in another class compared to all the other fighters he had faced leading up to last night.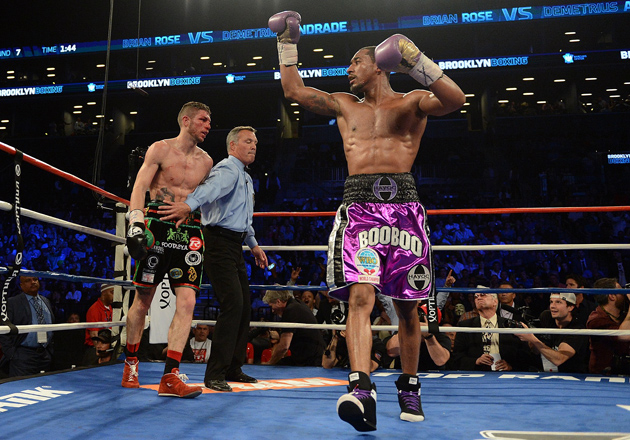 Photo Credit: Naoki Fukuda
Rose got knocked down in the 1st minute of round 1 by a perfect straight left hand shot from Andrade. Rose just looked befuddled the whole night. In the 3rd round, Rose would got caught again and sent to the canvas by a perfect counter right hook from Andrade. It seemed as though Andrade's consistent side to side movement bothered Rose as he got blitzed by Andrade's superior body work, combinations, right hooks, and straight left hands.
Andrade simply stuck to what was working for the reminder of the fight as he continued to punish Rose with the straight left hand and vicious combinations to the head and body of Rose. The referee stepped in and stopped the fight in the 7th round as Rose was taking a serious beating from Andrade and he was not punching back.
Andrade was awarded the 7th round TKO victory; as a result, Andrade remains the WBO junior middleweight champion.
Conclusion
Great stoppage by the referee last night!! Andrade was beating Rose into submission and if the referee would not have stepped in, Rose would have been treading dangerous waters of getting seriously hurt by Andrade so great decision by the referee to stop this fight!!
Andrade is going to be trouble for the 154 pound division for a while because of his awkward style as Andrade does a great job of using his reach to throw punches from all angles, and mixing up his attack to the head and body of his opponents. Whoever Andrade will decide to fight next, I know the boxing world will be waiting in anticipation!!