On Saturday, December 7, 2013, the boxing world witness a true lesson in pugilism as there were not too many knockouts or stoppages in last night's bouts.  The fights on last night tested the skill and will of most of these fighters as you had a combination of one-sided fights and fights were both fighters were digging deep to pull out a victory.
So here are last night's results:
Paulie "Magic Man" Malignaggi defeats Zab "Super" Judah by 12th round unanimous decision to win "The Battle for Brooklyn!!"  Malignaggi use kept his quick jab in the face of Judah the entire night and Judah just could not get away from that great jab from Malignaggi.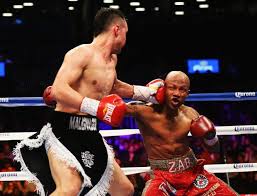 Photo Credit: eurosport.yahoo.com
Shawn "Showtime" Porter defeats Devon Alexander "The Great" by 12th round unanimous decision to capture the IBF welterweight title.  Porter came out from the starting bell swinging and stuck to his gameplan of pressuring and roughing up Alexander.  Alexander tried to counter the aggressive Porter and had moderate success, but the young kid just was too determined and ready to be champion.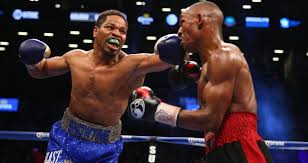 Photo Credit: www1.skysports.com
Erislandy Lara defeats Austin "No Doubt" Trout by 12 round unanimous decision to retain his WBA interim junior middleweight title.  Lara simply boxed great.  Trout tried to bring the fight to Lara, but Lara did a great job just trying to box and move.  Trout was knocked down and seriously hurt in the 11th round, but I give Trout credit for getting off of the canvas and finishing the fight strong.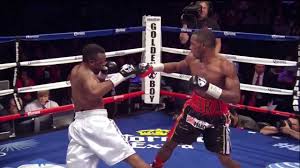 Photo Credit: youtube.com
The Sakio "The Scorpion" Bika and Anthony "The Dog" Dirrell fight was declared a draw.  As a result, Bika retains his WBC super middleweight title.  This was a wild fight, not sure if this fight should have been declared a draw though.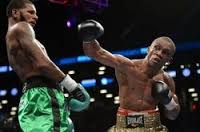 Photo Credit: www.usatodaysportsimages.com
Guillermo "The Jackal" Rigondeaux defeats Joseph "King Kong" Agbeko by 12 round unanimous decision to retain his WBA(Super), WBO, and RING junior featherweight titles.  Rigondeaux put on another shutout performance as he boxed beautifully and Agbeko simply had no answers.  Rigondeaux continues to climb up the pound for pound ladder as his pure boxing style continues to take the boxing world by storm.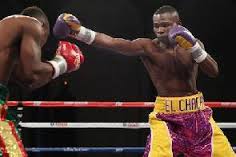 Photo Credit: ghanaweb.com
Felix Sturm defeats Darren "Dazzling" Barker by 2nd round TKO to capture the IBF middleweight title.  Sturm knocked Barker down twice in the 2nd round and Barker dislocated his hip in the process, thus, Barker was unable to continue in the fight.  Barker's boxing career can possibly be in jeopardy after dislocating his hip.  He will be going to get x-rays to determine how severe the hip was damaged.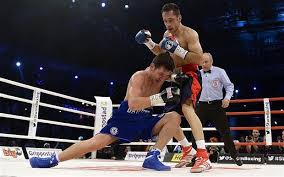 Photo Credit: telegraph.co.uk
Other fight results include Matthew "Mack The Knife" Macklin winning an easy 10 round decision victory over Lamar "The Boxing Que" Russ; and James "Mandingo Warrior" Kirkland propels himself back into the junior middleweight discussion after a long layoff to defeat Glen "Jersey Boy" Tapia by an 8th round TKO.
For more boxing news and articles continue to visit www.potshotboxing.com. If you like this post and other's from Potshot Boxing, feel free to spread the word to your favorite social media channels with your friends and family!! Potshot Boxing – "Boxing news and article bites for all walks of life."