Skill vs. Will times two!!
On September 14, 2013, there is a fight on the Floyd Mayweather, Jr/Canelo Alvarez undercard that may steal the entire Mayweather/Canelo extravaganza as undefeated Danny "Swift" Garcia squares off against the hard hitting Lucas Matthysse of Argentina in a fight where Garcia will be putting his WBA(Super), WBC, and Ring junior welterweight titles on the line.
Both Garcia and Matthysse are known for knocking fighters out which should have boxing fans bracing for a stunning knockout at every turn during this fight.  The winner of this fight has everything to gain and nothing to lose because these two fighters are entering into their prime and no matter who wins or loses, both of these fighters should be blasted off into the stratosphere as two of the best fighters in the world simply by taking this bout to fight against each other.
Tale of the Tape
Danny Garcia

Lucas   Matthysse

 

Age: 25 years old

Age: 30 years old

Record: 26-0-0 (16 KO's)

Record: 34-2-0-1 no contest (32 KO's)

Height: 5feet 8 ½ inches

Height: 5feet 6 ½ inches

Reach: 68 ½ inches

Reach: 69 inches

Stance: Orthodox

Stance: Orthodox
Danny "Swift" Garcia
Danny Garcia is one of those champions in boxing who has enjoyed great success in his professional boxing career so far and he is definitely looking to conquer yet another great junior welterweight as the sky is the limit for Garcia, especially if he is one to come out on top in this matchup with Matthysse.
The 25 year old Garcia is undefeated and over the last three years he has had some great wins over some respected competition; fighters such as Nate Campbell, Kendall Holt, and the great Eric Morales twice.
His most impressive victory came in a fight against Amir Khan back in July of 2012.  Early on in that fight, Khan looked very impressive as he did a lot of effective counterpunching in the first two rounds of that fight and for a minute there it seemed as if Khan was going to dominant the fight with his speed and accurate punching as Khan was simply out boxing Garcia by being first and beating Garcia to the punch.
In the second round of that fight, Garcia was cut over the right eye, but like the champion Garcia is, he overcame the bloody cut over his right eye to knock down Khan three times en route to a 4th round TKO victory.  This fight showed the boxing world that Garcia was tested for the first time in his professional boxing career and he responded like a champion, thus, gaining respect for the boxing world and boxing critics.
In his last fight against Zab Judah back in April of this year, you would have thought that Zab was going to fight Garcia's father instead of Garcia as Zab and Garcia's father got into a lot of verbal exchanges during many of the press conferences leading up to the fight.
The fight turned out to be a great fight as Judah needed to rally and come from behind to win the fight as Garcia stack up a lot of the early rounds and busted up Judah in the process.
Garcia knocked Judah down in the 8th round and when that happened I thought "aw man, Zab is going to get stopped," but I have to give credit to Judah because he did not fold up his tent, instead he fought hard for his native Brooklyn crowd and battle back to a respected place in the fight and he even split Garcia's forehead in the process.
Garcia ended up winning the fight by a unanimous decision victory, but Judah's heart in the fight made this fight a potential candidate for 2013 fight of the year.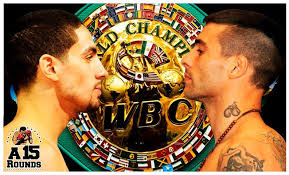 Photo Credit: www.boxingsocialist.com
Lucas Matthysse
What can say about the explosive Lucas Matthysse?  Well, he is strong, he a rough, and he is usually avoided by the contenders in the 140 pound division and with great reason.  In Matthysse's last six fights, he has either knocked out, stopped, or retired his opponents.
Matthysse has knocked out every opponent that his has a victory over with the exception of two, and one out of those two fighters were disqualified so Matthysse was not even given the opportunity to knock out the disqualified opponent.  This freaking guy is dangerous!!
Another fact.  Both of Matthysse's losses were both controversial split decision losses to Zab Judah in 2010, in a fight were Judah was knocked down in the 10th round of that fight; and against Devon Alexander, in a fight that Devon was knocked down in the fourth round by Matthysse.
Both of those fights could have easily went in Matthysse's favor which technically makes him an undefeated fighter in most boxing fans eyes.
In his last fight against Lamont Peterson, Matthysse overwhelmed Peterson with unbelievable pressure as Matthysse was able to knock down Peterson in round 2 and twice and round 3, en route to a 3rd TKO victory which leads us to the match at hand between Matthysse and Garcia on September 14, 2013.
Conclusion
This is going to be a great…great…fight!!  You have one guy in Matthysse who no one wants to face in the 140 pound division because of his devastating knockout power, and another fighter in Garcia, who a lot of 140 pound fighters are reluctant to face given that Garcia can slowly bust you up for 12 rounds or eventually stop you as the punishment accumulates.
There is one note on this fight I would like to point out however, and that is Garcia usually starts off slow, but I think that could be a mistake against this knock out artist in Matthysse.  I give Garcia a heck of a lot of credit for taking this fight and giving the boxing world a final piece in what could potentially become the biggest pay-per-view event in boxing history.
No matter what happens on September 14, 2013 between Garcia and Matthysse, the pay-per-view that will be put on is just another reason why we as boxing fans can all be safe that the sport of boxing will never die.