Danny Garcia was entering into enemy territory on August 1, 2015 when the Philly fighter entered into the Barclays Center in Brooklyn, New York to face off against Brooklyn's own Paulie Malignaggi.  Leading up to this fight I said that this fight should be dubbed "Garcia's aggression and power vs. Malignaggi's work rate."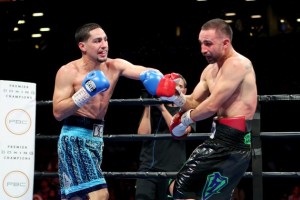 Wanna get ripped?  Get you in the best shape of your life with Jillian Michaels' new Ripped in 30! 
Well, only one part of the equation showed up to the Barclays center on Saturday night as Garcia used his effective aggression to wear down Malignaggi from start to finish in this fight.  Malignaggi got backed up by Garcia all night and just did not throw enough punches to keep Garcia off of him.
The only good moments that Malignaggi had in this fight was rounds 3 and 6.  Now Malignaggi did win round 6 in my humble opinion, and Garcia won round 3, it was just that Malignaggi had his hometown crowd moment in round 3 as the fans chanted "Paulie, Paulie!"  Paulie also got cut in that same round 3 on his right eye by a big Garcia shot.
Garcia would continue to wear down Malignaggi by whacking him what big shots to his body and following up with vicious combinations.  As the fight continued on, Garcia did not let up on the aggression as he continued to walk Malignaggi down and beat him up.  Before you knew it, we were almost halfway through the fight and I had Garcia winning the first 5 rounds on my unofficial scorecard.
After a good round 6, Malignaggi seemed to have gained some confidence as the fight was heading into the later rounds, but in round 7, Garcia shook off the bad round, and continued to robotically wear down Malignaggi with hard shots to the body, big right hands, and uppercuts.
Round 8 proved to be the most brutal of all the rounds as Garcia starting to land big left hooks to Malignaggi's damaged face.  Garcia would close the show in the 9th round by continuing to take advantage of Malignaggi's inactivity by landing damaging body shots and combinations that prompted the referee to stop the fight.
Danny "Swift" Garcia was awarded the 9th round TKO victory.
Like Doritos? Get a Doritos Sample here!
Conclusion
This was a decent one-sided fight that took place on Saturday, August 1, 2015.  Malignaggi did not bring his work rate to the party and Garcia took advantage of that by imposing his power and will on him.
After the fight, Malignaggi gave a heartfelt speech about his future in the sport of boxing as a fighter.  I am not sure if it is the end for Malignaggi or not, but I feel that he will never beat a top contender again so he should hang up the boxing gloves and continue to do boxing commentating for Showtime where he is in his prime.
As for Danny "Swift" Garcia, I would love for him to fight Shawn "Showtime" Porter in the future.  Not sure what's in the cards for Garcia in the future, but I just want Garcia paired up with another aggressive fighter so we the boxing world can get an all-action fight.  I feel that Garcia translated to the welterweight division very well and should be a force to deal with in the future.
Here are the other boxing results that took place on PBC on ESPN.
Right before the Premiere Boxing Championship Series (PBC) showcased Danny "Swift" Garcia and Paulie "Magic Man" Malignaggi; there were 2 fights that aired before the main event that had high drama and excitement.
Daniel "Miracle Man" Jacobs defeated Sergio "The Latin Snake" Mora by 2nd round TKO victory to retain his WBA (Regular) middleweight title. Mora could not continue due to injuring his knee when he got knocked down in the 2nd round by Jacobs. Mora was carried out on a stretcher.
It was a shame that Mora had to go out on a knee injury because this fight started out epic as both fighters went down in the 1st round.
Prichard "Digget" Colon defeated Michael Finney by 2nd round TKO victory to continue his climb up the ladder in the junior middleweight (154) division. Colon remains undefeated as he improved to 15 and 0!

Loading ...
Learn this little known extreme diet system that forces you to melt away body fat! 100% Guaranteed!
For more boxing news and articles continue to visit www.potshotboxing.com. If you like this post and other's from Potshot Boxing, feel free to subscribe to this boxing website by entering your email address into the floating email form provided on this post! Potshot Boxing – "Boxing news and article bites for all walks of life."